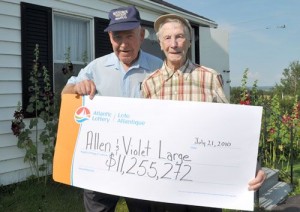 How long does it take to get rid of $11.2 million? For Allen and Violet Large, the cutest couple in Nova Scotia and possibly the world, it took only about four months. After hitting a lotto jackpot this summer, the septuagenarian couple decided to give away all their winnings to family members and "two pages' worth of groups," ranging from local churches to the Red Cross. I'll give you a moment to say, "Awwwwww."
According to The Toronto Star, the Larges—married since 1974, retired since 1983—were at a crossroads when they came across their multimillion jackpot:
Violet was undergoing treatment for cancer that doctors discovered in the spring.

"That money that we won was nothing," said Allen, choking back tears. "We have each other."

Violet has been through surgery and finished her last chemotherapy treatment a week ago.

After the win, the couple took about a week to work out the details before embarking on their $11,255,272 spending spree.

They took care of family first and then began delivering donations to the two pages' worth of groups they had decided on, including the local fire department, churches, cemeteries, the Red Cross, the Salvation Army, hospitals in Truro and Halifax, where Violet underwent her cancer treatment, and organizations that fight cancer, Alzheimer's and diabetes.

The list goes on and on.

The couple won't say how much they gave each group, but they've received plenty of phone calls, letters and plaques of gratitude. While they're thankful for each one, they didn't do it for the recognition.

"It made us feel good," said Violet. "And there's so much good being done with that money."
O, Canada.
Have a tip we should know? tips@mediaite.com