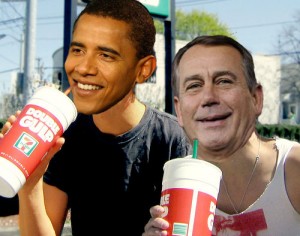 Are you ready for the Slurpee to become the new symbol of American unity? Well, the folks at 7-Eleven sure are. USA Today is reporting that the company is chomping at the bit to capitalize on off-handed comments President Obama made about holding a "Slurpee summit" with newly elected Republicans. Can you blame them? Sure, Obama may have lost some of his political power this week, but he's still a marketing bonanza. If you don't believe me, just know that two of these were sent to the Mediaite and Geekosystem offices a few weeks back.
The comment came in response to Obama's old comments that Republicans just sat around drinking Slurpees. Now that they have control of the House, Obama joked that they can work together while enjoying the refreshing beverage. Knowing how much of a bump Bud Light got when Obama sipped from one during the famous "Beer Summit," 7-Eleven is acting fast. USA Today has more on their plans:
"•Negotiations. White House officials were contacted late Wednesday by officials representing 7-Eleven with a proposal for the Slurpee brand to cater a Slurpee Summit between key Democrats and Republicans. The summit could be at the White House — or wherever the president chooses.

'If the president wants a Slurpee Summit, we're offering to cater it with red and blue Slurpees — and we'll even offer a purple Slurpee, since that's what you get when you bring red and blue together,' [Spokeswoman Margaret] Chabris says.

7-Eleven's request to the White House was made via the public relations firm New Partners, which has many employees who worked on the Obama campaign in 2008.

•Advertising. 7-Eleven on Friday will place an ad in national newspapers that plays off the idea of Slurpees bringing people together, says Chabris. One concept in discussion is a picture of a purple Slurpee with a red straw and a blue straw sticking out.

•Strategy. Slurpee is re-evaluating its brand strategy. It's looking at a new theme to be a drink that "brings people together," says Chabris."
There's also a quote from a "strategy guru" wondering aloud how great it is to have the president linking your brand to "all of these positive elements." Of course, that seems to be forgetting that his original metaphor linked Slurpees with laziness and obstructionism. Still, these days it's "what have you done for me lately" and now Slurpees represent teamwork, cooperation, and progressing towards America's prosperous future. And also brain freeze. Don't forget brain freeze.
Author's Note:
I would just like to comment that I mean no disrespect with the above Photoshopped picture. For some reason, the best photo I could find of two people enjoying a cool 7-Eleven beverage was that of rock duo Matt & Kim. This meant that either Obama or John Boehner would get the body of a woman. I mean to imply no slight and nothing other that that our president and future speaker would make great Brooklyn-based indie music together.
Have a tip we should know? tips@mediaite.com