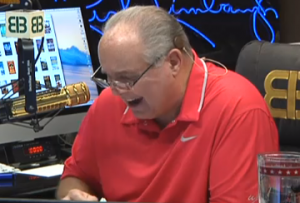 The official blog for the Chamber of Commerce is striking back at conservative radio host Rush Limbaugh for, it says, misstating the organization's position on immigration reform.
Limbaugh dedicated some of his show last week to immigration, saying of Republicans and Chamber of Commerce CEO Tom Donohue:
Now, as to the Republican leadership … I know that they are for amnesty. … They're for doing something that will send the signal to Hispanics that they don't hate them. That's their motivation. There's another motivation, and that's campaign donations. And the donor class, as popularized by the Chamber of Commerce, is threatening them. "If you don't do this, you can not expect to receive any more money from us."

The Chamber of Commerce head, Tom Donohue, said to the Republicans a couple of months ago, "If you don't do amnesty, you may as well not even nominate a candidate in 2016, 'cause none of us are gonna give any Republican any money if they don't do this." The pressure is on.
He made similar remarks on his show Tuesday.
"Rush Limbaugh may be 'right 99.7% of the time,' but he's wrong for distorting U.S. Chamber President and CEO Tom Donohue on immigration reform," Sean Hackbarth, who mans the Chamber's blog, wrote in a rebuttal post Wednesday. He went on to cite a May report from Politico that said Donohue was joking when he asserted at an event that "if the Republicans don't do it [pass immigration reform], they shouldn't bother to run a candidate in 2016." According to Politico, Donohue went on to say, "Think about that. Think about who the voters are. I just did that to get everybody's attention."
The Chamber's official position on immigration reform does not include "amnesty" for illegal immigratns but it does say there should be "a means for undocumented workers to earn lawful status by getting a background check and paying any fines and back taxes owed."
Asked if he thought Limbaugh is misleading his audience, Hackbarth said yes.
"Rush sees paying fines and back taxes as amnesty," Hackbarth told Mediaite in an email. "I see it more as a plea bargain. It acknowledges that laws were broken and lets people make amends. He definitely is misleading his audience by claiming Tom Donohue has threatened to not back candidates who don't support immigration reform."
Limbaugh hasn't exactly been a friend of the Chamber. In June, he said the organization is "deeply and profoundly opposed to the idea of … free markets."
Limbaugh did not immediately return request for comment.
[Image via screengrab]
— —
>> Follow Eddie Scarry (@escarry) on Twitter
Have a tip we should know? tips@mediaite.com