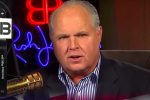 Rush Limbaugh is a radio talk show host and a conservative political commentator. He hosts "The Rush Limbaugh Show." He is a big critic of liberal policies and politicians. Limbaugh has been hosting his show since 1984. During the 2020 State of the Union Address, President Trump awarded Limbaugh the Presidential Medal of Freedom.
Rush Limbaugh Q&A
What station is Rush Limbaugh on?
WJNO, West Palm Beach and WOR, New York City on Premiere Networks.
How old is Rush Limbaugh?
Born January 12, 1951, Limbaugh is 69 years old.
What is the EIB Network?
The Excellence In Broadcasting, or EIB, Network is another name for the Rush Limbaugh program.
Rush Limbaugh Noteworthy Stories
July 10, 2019
Rush Limbaugh goes off on Megan Rapinoe for being anti-American.
June 28, 2019
Rush Limbaugh called the Democratic party "a bigger hate group than the KKK."
Latest Rush Limbaugh Stories