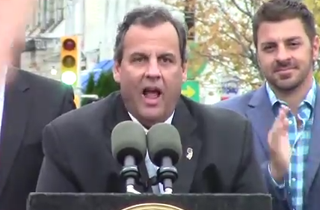 Someone had the audacity to hold a sign in front of Governor Chris Christie (R-NJ) during a press conference celebrating the second anniversary of Superstorm Sandy, and naturally, Christie wasn't having it — especially when the man kept trying to interrupt his speech.
"I'm glad you had your day to show off, but we're the ones who are here to actually do the work," he exploded at the heckler, to applause. "So turn around, get your 15 minutes of fame and then maybe take your jacket off, roll up your sleeves and do something for the people of this state."
Christie grew impatient as the heckler refused to stop talking, interrupting his speech. "There's been 23 months since then when all you've been doing is flapping your mouth and not doing anything," he exploded. "So listen, you want to have the conversation later, I'm happy to have it, buddy. But until that time, sit down and shut up."
It turned out that the heckler was James Keady, a former Asbury Park councilman who's been dealing with the problems caused by Sandy. He's not particularly mad at Christie, and told ABC that he invited him to his family's bar for a beer:
"Look, I'm not afraid to take stands. I've been an activist my entire life," said Keady. "I'm 6-4, 215 pounds. A former athlete. He tried to do his normal bullying thing to me. His normal routine of bullying old ladies isn't working with me."

Keady said his protest was meant to shine a light on problems with the state's billion-dollar program set up to get homeowners displaced by Sandy back on their property.
Watch below:

[Image via screenshot]
—
>> Follow Tina Nguyen (@Tina_Nguyen) on Twitter
Have a tip we should know? tips@mediaite.com