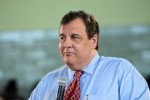 Chris Christie is a politician and political commentator. Christie served as the 55th Governor of New Jersey from 2010 to 2018. He ran for the Republican nominee for president in 2016 and later endorsed Trump. He is known for his relief efforts post-Hurricane Sandy.
Chris Christie Q&A
How old is Chris Christie?
He was born on September 6, 1962, making him 57 years old.
Where did Chris Christie go to college?
Christie graduated with his undergraduate degree in political science from the University of Delaware IN 1984.
Where did Chris Christie go to law school?
Christie received his J.D. from Seton Hall University School of Law in 1987.
Chris Christie Noteworthy Stories
February 27, 2019
Chris Christie says of the Michael Cohen hearing: "There hasn't been one Republican yet who's tried to defend the president on the substance."
July 10, 2017
Chris Christie fires back at a caller who called him a "fat *ss" on air.
Latest Chris Christie Stories