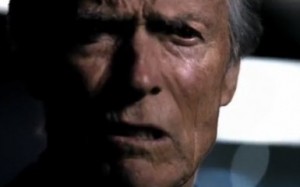 In a two-minute spot for Chrysler airing at halftime of the Super Bowl, actor Clint Eastwood spoke on behalf of Detroit and the American motor industry.
"It's halftime in America too," Eastwood said, in an ad similar to Eminem's Lose Yourself ad for GM last year. "People are out of work and they're hurting. And they're all wondering what they're going to do to make a comeback."
RELATED: Hannity's "Great American Panel" Recaps Super Bowl Ads, Balks At White House Tailgate Menu

Eastwood continued:
And we're all scared, because this isn't a game.

The people of Detroit know a little something about this. They almost lost everything. But we all pulled together, now Motor City is fighting again….

This country can't be knocked out with one punch. We get right back up again and when we do the world is going to hear the roar of our engines.
Documentary filmmaker Michael Moore praised the ad, saying "And Clint, the consensus is u done a good thing standing up 4 Detroit–& your sermon seemed 2 b a call 2 give O his "second half."" Karl Rove, other the other hand, was not a fan. "I was, frankly, offended by it…I'm a huge fan of Clint Eastwood, I thought it was an extremely well-done ad, but it is a sign of what happens when you have Chicago-style politics, and the president of the United States and his political minions are, in essence, using our tax dollars to buy corporate advertising."
Watch the ad below:

Have a tip we should know? tips@mediaite.com