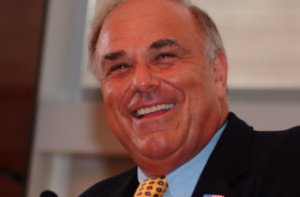 Here is a quote in the Washington Post that I am going to place gently here in its entirety for you to examine:
Will [Donald Trump] have some appeal to working-class Dems in Levittown or Bristol? Sure. For every one he'll lose 1½ , two Republican women. Trump's comments like "You can't be a 10 if you're flat-chested," that'll come back to haunt him. There are probably more ugly women in America than attractive women. People take that stuff personally.

— Ed Rendell, a surrogate for the Hillary Clinton campaign
Yeah, Rendell, a popular former Pennsylvania governor and Philadelphia mayor, defended his preferred candidate by saying that she will lock down the vote of ugly women. Put that into perspective by recalling, oh, I don't know, Monica Lewinsky or the alleged "Energizer," Julie McMahon.
Sure, a surrogate is just like one of those superfans who get a grudging go-ahead to start the band's official fan club but doesn't really have anything to do with the group, so Clinton's campaign definitely didn't sign off on this particular talking point, but yikes.
This isn't even the first time the big-time Clinton supporter has said something that made her look terrible, either. Remember when he said she was handling her email scandal "atrociously" and was being "tone deaf"?
To recap, according to Rendell, who once fell asleep during an interview on MSNBC, Clinton has a special appeal to the flat-chested, the cheated-on, and the downtrodden.
[image via screengrab]
Lindsey tweets! Lindsey Facebooks!
Have a tip we should know? tips@mediaite.com