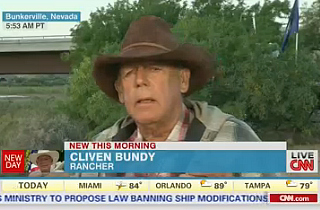 Cliven Bundy, the controversial Nevada rancher in a land property dispute with the federal government, said Wednesday the U.S. is on the brink of a Civil War and that God told him so.
"I have no idea what God wants done," Bundy said in a radio interview, according to the Salt Lake Tribune, "but he did inspire me to have the sheriffs across the United States take away these weapons, disarm these bureaucracies, and he also gave me a little inspiration on what would happen if they didn't do that."
Bundy continued, "It was indicated that 'this is our chance, America, to straighten this problem up. If we don't solve this problem this way, we will face these same guns in a civil war.'"
Bundy said in the interview that local authorities, not the federal government or the president of the United States, are the ones with the power to enforce laws.
"If I broke some laws, why don't they come and arrest me?" he said. "If I'm breaking laws, why did several hundred, maybe thousands, of people feel inspiration to stand with me. If I'm breaking laws of the land, then I would think the Lord wouldn't be with us for one thing."
Last weekend, Bundy said God has intervened with his standoff against the Bureau of Land Management. "If the standoff with the Bundys was wrong, would the Lord have been with us?" he said, addressing a crowd of Independent America Party. "Could those people that stood without fear and went through that spiritual experience…have done that without the Lord being there? No they couldn't."
Bundy was briefly a hero for some conservatives this year, seen as a victim of government overreach. His star fizzled out when he made public comments about "the negro."
[Image via CNN/screen grab]
— —
>> Follow Eddie Scarry (@eScarry) on Twitter
Have a tip we should know? tips@mediaite.com