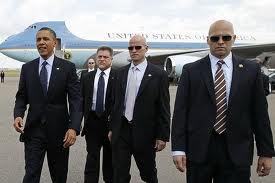 Over at the New York Times, William Neuman spoke to one of the Colombian escorts who was involved in the Secret Service scandal. Speaking anonymously, the woman detailed the encounter — including the money dispute.
The woman, a 24-year-old single mother, said, "They never told me they were with Obama. They were very discreet." Though she did not know who the American man worked for, but figuring he was a well-off foreigner, she gave him a price of $800. That number, she said, differentiates that she is an escort, not a prostitute. "You have higher rank," she said. "An escort is someone who a man can take out to dinner. She can dress nicely, wear nice makeup, speak and act like a lady. That's me."
The man offered her roughly $30, an offer that disgusted her — and then her friend, who had spent the night with an American man from the same group, got involved in the conflict (which played a part in this whole scandal coming to light). Under the threat of police involvement, the man said he didn't want trouble. The woman lowered the price to $250, the amount she said she has to pay the man who helps her find customers. Eventually, the man gave her about $225.
"It was only days later," the NYT notes, "once a friend she had shared her story with called to say that the dispute had made the television news, that she learned that the man had been a Secret Service agent." Upon seeing the reports, she wasn't happy with her portrayal as a prostitute.
"It's the same but it's different," she said, indicating that she is much more selective about her clients and charges much more than a streetwalker. "It's like when you buy a fine rum or a BlackBerry or an iPhone. They have a different price."

The woman veered between anger and fear as she told of her misadventure. "I'm scared," she said, indicating she did not want the man she spent the night with to get into any trouble but now feared that he might retaliate against her.

"This is something really big," she said. "This is the government of the United States. I have nervous attacks. I cry all the time."
Unsurprisingly, the Secret Service declined to comment on the woman's account. The woman said she's not interested in speaking with American investigators and plans to leave Cartagena soon.
Have a tip we should know? tips@mediaite.com