Comedian Wanda Sykes Flips Off Crowd After Getting Booed For Calling Trump a 'Racist'
In a Boston comedy show last night, comedian Wanda Sykes was loudly booed by large portions of the audience near the end of her set as she referred to President-elect Donald Trump as a "racist, sexist, homophobic person."
Sykes set at the Comics Come Home benefit show in the TD Garden, hosted by Dennis Leary, was pretty much an anti-Trump tirade, coming on the heels of Tuesday's shocking victory by the real estate mogul. At one point, she described Trump as an "orangutan," stating she couldn't believe the country elected him.
Throughout the majority of the set, Sykes was able to get some laughs from the crowd and didn't really face too much anger from the audience. However, near the end, when she said "this is not the first time we've elected a racist, sexist, homophobic person," many in the crowd turned on her.
Sykes, who is a black and gay, lashed back out at those booing her, pointing some out and telling them to "f*ck off." When she left the stage, she threw up a middle finger.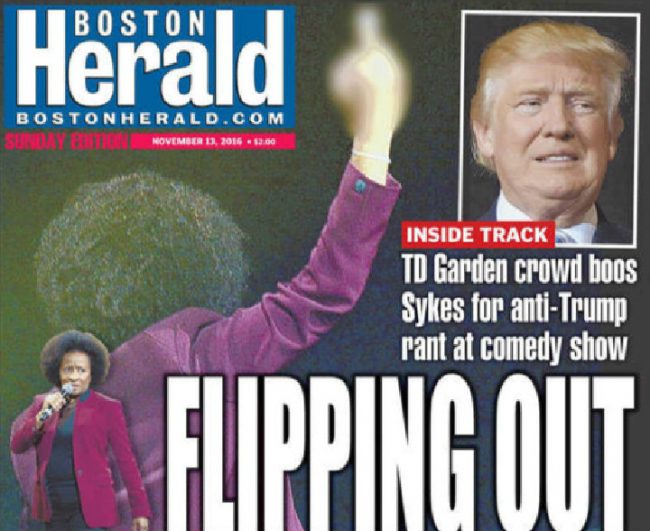 Meanwhile, the comedian who followed her was Nick DiPaolo, a Trump supporter. According to the Boston Globe, DiPaolo railed against Hillary Clinton and got into it with an audience member.
After Sykes came off stage, host Denis Leary tried to calm down the crowd before Danvers-born DiPaolo took to the stage and said he was happy that Trump was elected. He then went on a tirade about Democrat Hillary Clinton's health and called her a felon.

Later, a woman walked to the stage and confronted DiPaolo. As the woman was escorted away from the stage, DiPaolo made a comment to the crowd about her being Jewish.
Watch video of Sykes' performance, via Facebook.
[image via screengrab]
–
Follow Justin Baragona on Twitter: @justinbaragona
Have a tip we should know? tips@mediaite.com