Comedian Who Lied About 9/11 Tells Howard Stern 'It Wasn't Calculated At All' (UPDATED)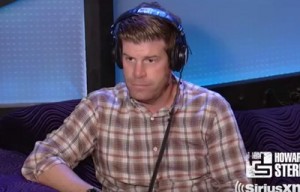 The comedian who admitted to lying about being in the World Trade Center on Sept. 11, 2001 did his first interview since the controversy first broke on Tuesday morning.
According to Uproxx, The League star and former Buffalo Wild Wings spokesperson Steve Rannazzisi sat down with radio show host Howard Stern to discuss the matter. He stressed the importance of speaking to Stern first since the famous shock jock and his show are an important part of New York City. After all, Stern famously kept his radio broadcast going throughout the 9/11 attacks.
The cordial nature of Rannazzisi's opening words were quickly diminished, however, when Stern directly asked him whether or not he thought he was a liar or insane. In response, the comedian said no and tried explaining himself:
"It's not like I moved to Los Angeles with this story, with the thought of, like, I'm gonna go out and trick everyone out there and tell them this is what it is — it wasn't calculated at all — it was as simple as sitting at the Comedy Store and everyone being like, 'Hey, you're from New York?' 'Yeah, yeah.' 'Were you just there?' 'Yeah, yeah, I was downtown.' 'You worked there?' 'I did.'

"You have like 15 seconds I think, to kind of go, 'Wait, hold on, stop, I'm sorry, that's not true.' And if you pass that 15 seconds, it's sort of like, now it becomes a thing where you're like, now I have to be the guy who's very strange and weird and just says I lied about 9/11."
While Rannazzisis seems honest in his explanation, his newfound honesty doesn't negate the fact that he repeatedly lied about having been in the World Trade Center on Sept. 11. Sure, he's fessing up to it now, but only because he was called out in the first place.
At least Saturday Night Live's Pete Davidson, whose father died in the attacks, was able to have some fun at Rannazzisi's expense throughout the charade.
UPDATE–1:58 p.m. ET: The Howard Stern Show's YouTube page posted the full 40-minute interview online for all to see.
[h/t Uproxx]
[Image via screengrab]
— —
>> Follow Andrew Husband (@AndrewHusband) on Twitter
Have a tip we should know? tips@mediaite.com