Couple Claims They Tipped Gay Server, Did Not Leave Note Condemning Her 'Lifestyle'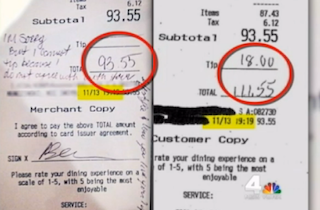 A family accused of stiffing an openly gay restaurant server and leaving her a message disapproving of her homosexuality came forward on Tuesday to claim they've been the victim of a hoax.
The receipt in question was posted by Dayna Morales, a server (and former Marine) at Gallop Asian Bistro in Bridgewater, NJ who posted it to her Facebook page. The receipt had a line drawn through the tip area and a note reading, "I'm sorry but I cannot tip because I do not agree with your lifestyle." The post quickly went viral.
The family contacted NBC News New York and presented what appeared to be the customer copy of the same receipt, showing an $18 tip (which would have been 20%) and no criticism, as well as a credit card bill displaying the full amount, tip included, charged to their card.
"We've never not left a tip when someone gave good service, and we would never leave a note like that," said the couple, who asked to remain anonymous. The couple also said both had experience in the food industry, and the husband said he had even refrained from voting for Governor Chris Christie due to his opposition to gay marriage.
The receipts are not carbons of each other, so it is possible the couple wrote one thing on the copy they left and another on the one they kept; however, Gallop was unable to explain why their credit card was charged the full amount if no tip was added.
The family said that they came forward after the story didn't seem to be dying down; in fact, Morales has received about $1,000 in "tips," i.e. donations, from around the world, which she said she is donating to Wounded Warriors.
"The restaurant's profiting from this, obviously Dayna's profiting from this, and it's a scam," the husband said.
"It's fine if people want to donate to her or to the Wounded Warriors, but they're doing it under a false pretense," the wife said.
Watch NBC New York's segment below:
[h/t NBC New York]
[Image via screengrab]
——
>> Follow Evan McMurry (@evanmcmurry) on Twitter
Have a tip we should know? tips@mediaite.com