Dan Savage Calls Gay Conservative Group GOProud 'House Faggots' For Romney Endorsement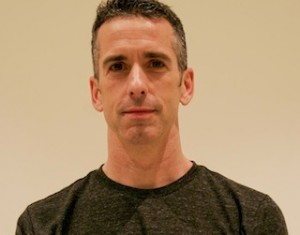 Columnist and co-creator of the It Gets Better project Dan Savage called a gay conservative group "faggots" after the group endorsed Mitt Romney Wednesday.
RELATED: Ann Coulter Named Honorary Chair Of GOProud
GOProud endorsed Romney in a news release and said they would commit "significant resources" to his campaign. The group describes itself as "a national organization of gay and straight Americans seeking to promote freedom by supporting free markets, limited government, and a respect for individual rights."
"Most gay Americans – like their straight counterparts – are not better off than they were four years ago," Jimmy LaSalvia, GOProud executive director, said in a statement endorsing the Republican nominee. "The truth is that gay people are living in the disastrous failed Obama economy too." Savage tweeted a link to a story about the groups endorsement, mocking them as "GOP house faggots" for "grab[bing] their ankles, right on cue."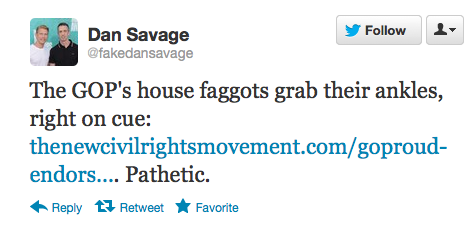 LaSalvia said the group opposes Romney's support of a federal marriage amendment and acknowledged the group's endorsement was not unanimous with two members of its board voting against it.
"For far too long, the gay left in this country has been allowed to dictate what they believe qualify as 'gay issues,'" LaSalvia said in the statement. "We think that jobs, the economy, healthcare, retirement security and taxes are all 'gay issues,' and on every single one of those issues, Mitt Romney is light years better than President Obama."
GOProud has not officially released a statement on Savage's tweet, but co-founder Christopher Barron responded on his site: "Apparently, faggot is an entirely appropriate slur as long as Dan Savage is slinging it and gay people who you don't agree with are on the receiving end. It gets better my ass."
Follow Hunter Schwarz (@hunterschwarz) on Twitter
Have a tip we should know? tips@mediaite.com