Mitt Romney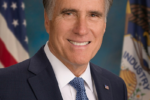 Willard Mitt Romney is an American politician. He served as the Massachusetts governor from 2003 to 2007, was the Republican Party's nominee for president in 2012 and has been serving as the United States Senator from Utah since January of 2019. He was born March 12, 1947, is married to Ann Davies and has five children.
Mitt Romney Q&A
Where did Mitt Romney go to college?
Mitt Romney attended Stanford University from 1965-1966, he earned a Bachelor of Arts from Brigham Young University in 1971, and a joint JD-MBA from Harvard University in 1975.
When did Mitt Romney run for president?
Romney ran for President of the United States in 2008 and 2012.
Mitt Romney Noteworthy Stories
January 14, 2019
Mitt Romney calls on Rep. Steve King to resign after 'reprehensible' comments.
August 18, 2017
Romney condemns Trump's response to Charlottesville attacks and asks he apologize for "unraveling our national fabric".
Latest Mitt Romney Stories