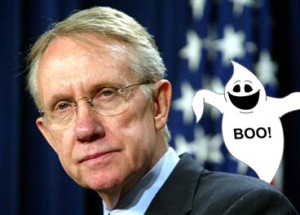 Harry Reid's got a lot on his plate right now. He's in the midst of a tough campaign against Sharron Angle. The Tea Party all hates him. And, now, he's got to deal with angry ghosts! A few days ago, an 84 year old woman passed away and her obituary held one of her final wishes: that people don't vote for Harry Reid. Boo!
From the Las Vegas Review-Journal:
Chances are good you never met Charlotte McCourt during her 84 years, but I'm willing to bet you'll be hearing about her in the coming days now that her obituary has taken Senate Majority Leader Harry Reid to task. It's the kind of small story that has the potential to ricochet like a bullet through the campaign showdown between incumbent Reid and Republican challenger Sharron Angle.

Not because McCourt, who died July 8 after a long illness, was a political player or business powerbroker, but precisely because she was neither of those things. She was a homemaker, proud mother and grand mother and wife of 67 years to Patrick McCourt.

And she was at one time a loyal supporter of Harry Reid.

Her obituary, printed in Tuesday's Review-Journal, reads in part, "We believe that Mom would say she was mortified to have taken a large role in the election of Harry Reid to U.S. Congress. Let the record show Charlotte was displeased with his work. Please, in lieu of flowers, vote for another more worthy candidate."
Clearly the Reid campaign needs to go into damage control mode. Expect plenty of new campaign ads focusing on winning over the deceased constituency. We also can assume that Reid will soon be filling his speeches with promises not to build houses on Indian burial grounds and to always hold his breath while driving by cemeteries.
One of my favorite parts about the Review-Journal's write up is that the writer, John L. Smith, makes a point of guessing that this is the exact kind of quirky story that will get national attention. Oh, Mr. Smith, if you bet money on that guess, you are going to be very rich.
(via The Upshot)
Have a tip we should know? tips@mediaite.com