Did you know that there are people running in the Democratic race for the presidency other than Hillary Clinton and Bernie Sanders? Well, there are, and 3 out of 4 of them will be appearing at tonight's CNN debate.
But let's face it, not many people are tuning in tonight to see Martin O'Malley or Jim Webb or Lincoln Chafee, which is probably why Webb eagerly tweeted out this huge ringing endorsement of his candidacy: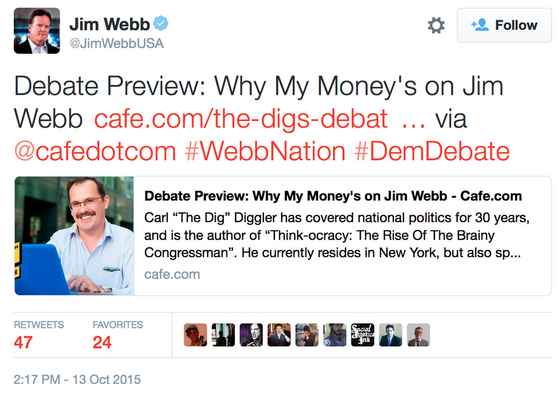 There's just one problem. Read the endorsement here and see if you notice anything off about it:
As a veteran, Reagan administration alum, full professor at Naval college, and hardcore moderate, it's obvious that Jim Webb is Hillary's main competition for the nomination in all but name only. Webb is liable to have his big breakout moment at the debate when Democratic voters get a look at his square jaw, burly muscles, and big heavy combat boots. Adding to his long list of positives, the former Virginia Senator has a wife from another country, something very popular with Millennials. Furthermore, his habit of carrying a gun in this age of mass shootings could lead him to personally stopping a spree killer in the act, a moment that would almost certainly go viral.
Yeah, kind of an obvious parody here.
At some point after people noticed it was a parody, Webb took the tweet down.
On a totally unrelated note, have you heard about this amazing Chafee-Webb rivalry that's going on?
[h/t The Daily Beast]
[image via screengrab]
— —
Follow Josh Feldman on Twitter: @feldmaniac
Have a tip we should know? tips@mediaite.com
Josh Feldman - Senior Editor