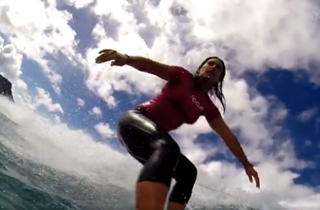 An innocent profile of a congresswoman has turned into somewhat of a scandal, after it was revealed that Rep. Tulsi Gabbard (D-HI) had blown off a hearing about the VA hospital crisis to go surfing with a reporter in Waikiki.
The video profile, shot with Yahoo! News reporter Chris Moody, not only showcased the congresswoman's enviable surfing hobby, but was also scheduled at the same time as a critical field hearing arranged by Sen. Mazie Hirono (D-HI) in which Gabbard, a vet herself, was supposed to attend.
After the Honolulu Civil Beat repeatedly asked Gabbard why she'd missed the meeting and her staff stonewalled for days as to her absence, Gabbard's spokeswoman admitted that she had been surfing with Moody, and that Yahoo's team had been delayed by traffic, causing their surf trip to run late. (The hearing on Aug. 19 lasted from 10 a.m. to 1 p.m. According to a watch Gabbard wore in the video, she was paddling away from the Waikiki shore at 9:15 a.m.)
"This led to her being so behind schedule that she wouldn't have been able to get to Senator Hirono's hearing until near the end," said her press secretary Heather Fluit. "Once Congresswoman Gabbard realized how late she would be, she decided not to go because she felt it would have been disruptive and disrespectful to just show up at the end."
"We are reviewing our scheduling process and Congresswoman Gabbard regrets that she was unable to attend," she added.
Watch the video below of Goddard… wiping out (sorry), via Yahoo:
[h/t Gawker]
[Image via screenshot/Yahoo]
—
>> Follow Tina Nguyen (@Tina_Nguyen) on Twitter
Have a tip we should know? tips@mediaite.com