Despite Bannon's Ouster From Breitbart, He's Still Squatting at Website's D.C. Headquarters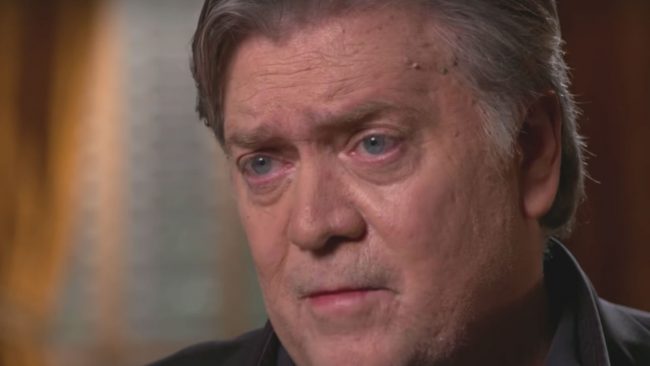 Buried within a just published GQ interview with ousted White House senior strategist Steve Bannon is the revelation that he is still a fixture at Breitbart's Washington D.C. headquarters, despite being canned by the publication after the firestorm over Michael Wolff's blistering tell-all about the Trump administration.
"These days, he no longer runs Breitbart News, but Bannon remains holed up at the company's Capitol Hill headquarters, plotting the next stage of his right-wing populist revolution and brooding over the course of human events," GQ's Ben Schreckinger writes in his thrilling and contentious Q&A with Bannon.
In addition to squatting at his former office, the one-time Washington D.C. kingmaker is planning some form of new media entity, though he is cagey in the details, other than the fact that he plans on "weaponizing ideas."
"In this new entity that I'm setting up, part of it is—weaponizing ideas maybe is too strong a term—but getting ideas out there," he said. "It's going to be focused on the promulgation of ideas, the weaponizing of ideas and building and binding together through affiliate groups."
Bannon also has an unexpected obsession, the #TimesUp movement, which finds women standing up to sexual harassment and abuse.
He doesn't believe in their cause, of course, but he has been studying how to use their "vast cadre of foot soldiers" in order to support causes he does support, such as economic nationalism or the rising threat of China.
"I'm opposed to it because it's clearly coming from the left. It's clearly, in part, in reaction to this populist movement, this nationalist movement," he said. "What I do know is that it's against what I call the patriarchy, it's against the way things have been run for the previous 4,000, 5,000, 10,000 years. It's just opposed to that."
Interestingly, Bannon refused to answer any questions on Bob Mercer and Rebekah Mercer, billionaires who had been bankrolling Bannon but have since withdrawn their support.
[image via screenshot]
—
Follow Lawrence Bonk (@sidescrollers) on Twitter
Have a tip we should know? [email protected]