NPR Execs Call Tea Partiers 'Gun-Toting Racists' According To Hidden Camera Video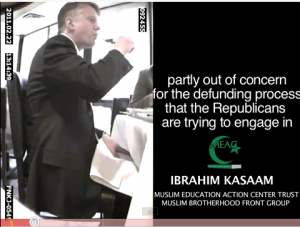 Another day, another James O'Keefe video. The conservative activist, who gained notoriety after releasing edited video footage showing wrongdoing among low-level ACORN (Association of Community Organizations for Reform Now) employees, has now turned his lens on NPR.
In the footage, a man purported to be former NPR senior executive Ron Schiller
(He has since taken on a new role as director of the Aspen Institute Arts Program and Harman-Eisner Artist-in-Residence Program, reported as recently as… Well, yesterday. It's unknown whether the job move happens to be something other than a coincidence that happens to work in Schiller's favor) and a woman described as Betsy Liley, the media outlet's director of institutional giving, are shown meeting with two individuals – Shaughn Adeleye and Simon Templar – who are posing as members of a fabricated organization called the "Muslim Education Action Center (MEAC)." At one point, the fake representatives describe their organization as having been "originally founded by a few members of the Muslim Brotherhood in America, actually."
On the tape, the man thought to be Schiller is heard making disparaging remarks about the the Tea Party movement, opining that they have "hijacked" the Republican Party and calling the movement's members "really xenophobic, I mean basically they are, they believe in sort of white, middle-America gun-toting. I mean, it's scary. They're seriously racist, racist people." The man then shares his belief that liberals are generally more educated than their conservative counterparts, in addition to being more "fair and balanced."
He and the two "MEAC representatives" then engage in an awkward conversation about "Zionist" influence on NPR's coverage, with one of the men from MEAC opining that "Jews do kind of control the media or, I mean, certainly the Zionists and the people who have the interests in swaying media coverage toward a favorable direction of Israel." The man thought to be Schiller weighs in, saying that there is no "Zionist or pro-Israel" bias at NPR, despite some of their funds coming from Jewish organizations. Of the American Jewish World Service, the man described as Schiller says, "They are really looking for a fair point of view and many Jewish organizations are not."
He also briefly touches upon the recent firing of former NPR contributor Juan Williams for his comments about Muslims on Fox News – a network often regarded as NPR's ideological opposite.
What NPR stood for is non-racist, non-bigoted, straightforward telling of the news and our feeling is that if a person expresses his or her opinion, which anyone is entitled to do in a free society, they are compromised as a journalist. They can no longer fairly report.
Take a look at the footage and form your own judgments:
h/t The Daily Caller
Have a tip we should know? tips@mediaite.com