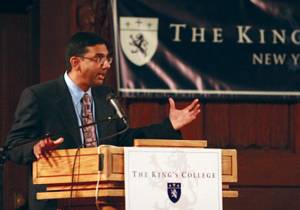 Evangelical magazine World reported today that Dinesh D'Souza's "relationship to a woman not his wife" is causing a stir at The King's College, the Christian institution of which D'Souza, also a conservative pundit, is president.
At a conference last month, D'Souza was not with Dixie, his wife of 20 years, the report said. He "was with a young woman, Denise Odie Joseph II, and introduced her to at least three people as his fiancée." The two also shared a hotel room, though confronted about it, D'Souza said "nothing happened."
Speaking to World, D'Souza said he is engaged to Joseph — "did not explain how he could be engaged to one woman while still married to another." He said he filed for divorce "recently" — though the report went on to say records show he filed the same day he spoke to the magazine.
The report deemed it "a strange twist in D'Souza's otherwise meteoric rise in the evangelical world." D'Souza, you may recall, is the mind behind the incredibly successful documentary 2016: Obama's America, which branched from his bestselling book, The Roots of Obama's Rage.
As for the situation at King's College:
D'Souza said King's board chairman Andy Mills has known about his marital trouble for at least two years. Mills confirmed that through a spokesman, Mark DeMoss, who added that Mills was "hopeful about restoration and both he [D'Souza] and Andy were praying to that end." DeMoss said The King's College board met by conference call to begin "looking into the situation." D'Souza participated in a portion of that call, DeMoss said. Following that meeting, on Oct. 15, D'Souza wrote in a text message to me: "I have decided to suspend the engagement."
The board plans to discuss it in upcoming meetings this week.
(H/T World)
Have a tip we should know? tips@mediaite.com