High School Comes Under Fire After CNN iReport Of Blackface Skit Recreating Chris Brown-Rihanna Beating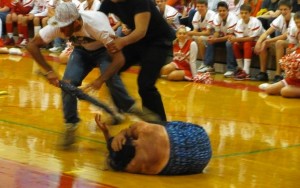 A story was posted on CNN's iReport page yesterday about a pep rally containing a comedy sketch that offended some students. Students at Waverly High School in New York put on a sketch during the pep rally where they put on blackface and acted out a scene with Chris Brown and Rihanna. As a result of the iReport, the school has now come under fire for allowing the performance to take place.
RELATED: Stand-Up Comedian Dons Blackface To Ask BYU Students About Black History Month
In the initial iReport, user Matt Dishler posted a picture taken in the middle of the skit, along with an explanation for what happened. This individual posted quotes from school alumni, and pointed out that in order for the skit to be put on in the first place, the administration had to approve it first.
A producer for CNN iReports updated the post today explaining how the iReporter compiled their information. Dishler did not attend the pep rally (he graduated from Waverly in 2006), but only heard about it from other students who were present. The sketch, which was intended to be a satire surrounding the 2009 incident when Chris Brown beat Rihanna, was part of an annual competition at the school to win the title of "Mr. Waverly." The producer also notes that many students have come to the defense of the performers, with one going so far as to post a rap online about it.
Meanwhile, the school is dealing with complaints that it should not have allowed the sketch to be put on in the first place. The school superintendent said he was unaware of what the students were planning to perform, but promises to address all the concerns and complaints he has received.
"The Waverly School District is committed to creating a positive atmosphere through all activities," Yelich said. "I'll be working with building administration, staff and students to develop future activities consistent with that commitment.

"There is a set of concerns that a number of individuals have had, and we want to address those concerns," Yelich said. "I want to be sure administration and staff and students know what our expectations are."
Dishler said that there is not a lot of racial diversity at the school, and while he does not think the students involved had "vicious intentions," the school administration should have put a stop to it before it happened.
—–
Follow Josh Feldman on Twitter: @feldmaniac
Have a tip we should know? tips@mediaite.com
Josh Feldman - Senior Editor