Don Lemon Played Himself in the Black Lives Matter Episode of Black-ish Everyone's Talking About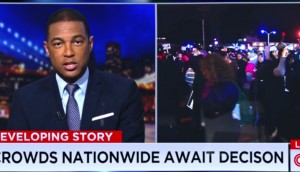 Last night, the ABC sitcom Black-ish went there with the topic of police brutality. The show, which focuses on a black family in an upper middle-class neighborhood, has been being talked about all day today as a result. Before today, you might have known the show because of reactions like this:
How is ABC Television allowed to have a show entitled "Blackish"? Can you imagine the furor of a show, "Whiteish"! Racism at highest level?

— Donald J. Trump (@realDonaldTrump) October 1, 2014
Interestingly, the show is described like this by its creators:
Dre Johnson has it all: a great job, a beautiful wife, Rainbow, four kids and a big home in a classy neighborhood, but as a black man, he begins to question whether all his success has brought too much cultural assimilation for his family … Dre begins to try to create a sense of ethnic identity for the members of his family that will allow them to honor their background while preparing them to embrace the future.
Obviously, it was created to counteract ideas just like the one Trump tweeted two years ago by explaining what the daily life of even the most conventionally successful families of color really looks like from their own perspective. Last night, that was done by tackling police brutality and how parents can explain what happened to Tamir Rice, Mike Brown, and Trayvon Martin to their kids, who look no different, even — or especially — in the eyes of the police.
#Blackish was great tonight. I've had that conversation with my parents about police. It's real, nothing about that episode was made up.

— Got Sports? (@ImHipHopHead) February 25, 2016
References were made to influential black activists and authors, like Ta-Nehisi Coates:
"I know how I feel and it's lost." – Zoey #blackishhttps://t.co/dMawCM934s

— black-ish (@black_ishABC) February 25, 2016
Beyond that, other black public figures got on-board for the episode's look at a very serious topic. Check out CNN's Don Lemon playing himself and covering the trial of an officer accused of assaulting an unarmed black teen:
"Is anyone going to explain to us what's happening?" – Diane #blackishhttps://t.co/OyvzCc3LLx

— black-ish (@black_ishABC) February 25, 2016
CNN then went on to cover the episode in real life last night and Lemon expressed his gratitude and pride for being involved. Check it out:

Did you watch?
[image via screengrab]
For more from Lindsey, follow her on Twitter.
Have a tip we should know? tips@mediaite.com