Donald Trump Calls Out Colin Powell's 'Weak Understanding' After Leaked Email Fiasco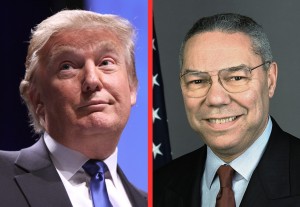 Yesterday morning, Buzzfeed News reported on a series of leaked emails from former Secretary of State Colin Powell from his personal Gmail account that were surfaced by Russian intelligence hackers. In one email, Powell, who served under President George W. Bush, called former Vice president Dick Cheney an "idiot," while another targeted Democratic party nominee Hillary Clinton with devastating straightforwardness: "Everything HRC touches she kind of screws up with hubris."
Oh, and he also said former President Bill Clinton was, "still dicking bimbos at home (according to the [New York Post])."
So it wasn't exactly the type of day Powell thought he'd be waking up to; after all, he's already been dragged into the 2016 race against his own volition through the Clinton private server disaster. But in one of the most cited emails of the Powell leak, he set his sights on the man who is now the GOP standard-bearer: Donald Trump.
Powell wrote in one email:
"There is nothing [Trump] can say that will sway black VOTERS…He takes us for idiots. He can never overcome what he tried to do to Obama with his search for the birth certificate…the whole birther movement was racist…And for him to say yesterday that within four years he would have 95% of blacks voting for him is schizo fantasy."
Aside from indicating that Trump's highly-touted birther movement was "racist" in nature, Powell also said that Trump was — in no uncertain terms — a "national disgrace and an international pariah."
Unsurprisingly, Trump took to Twitter to return fire overnight:
I was never a fan of Colin Powell after his weak understanding of weapons of mass destruction in Iraq = disaster. We can do much better!

— Donald J. Trump (@realDonaldTrump) September 15, 2016
Moments from now, the Republican party nominee is set to appear on Fox & Friends alongside his running mate Mike Pence, though it's unlikely he'll be pressed hard about his anti-Powell rhetoric.
—
Have a tip we should know? tips@mediaite.com