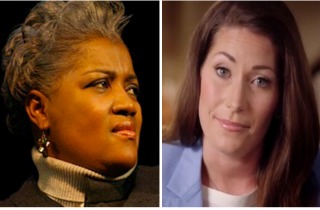 It was funny to a lot of professionals in media and politics when Democratic U.S. Senate candidate Alison Grimes declined twice in one week to definitively state whether she voted for President Barack Obama in 2008 and 2012. Vice Chairwoman for the Democratic National Committee Donna Brazile, however, isn't laughing.
In a column for CNN.com, Brazile writes that it was a massive blunder for Grimes to try distancing herself from the de facto Democratic Party leader.
"Grimes should have said she voted for President Obama and then gone on to explain her policy differences with him," Brazile said. "By ducking the question, all she did was make news out of her refusal to give a routine answer to a routine question. If Grimes doesn't care for Obama or what he stands for or has accomplished, just say so."
Having forthrightly identified herself as a Democrat, Grimes can go on to explain what kind of Democrat she is — a Clinton Democrat, a moderate Democrat, a Kentucky Democrat, a Blue Dog Democrat, or simply a woman who has shown voters that she is wise and if elected, will work hard to put their interest first — not simply try to score partisan points. …

If there is one rule for Democrats this year it is, "Don't demoralize and demobilize the Democratic base." She may, in fact, never tell anyone her ballot vote. But, Grimes does herself, and her party, no good by sidestepping her party's leader.
Grimes, who was even mocked for the "sidestepping" by ABC's Jonathan Karl and White House press secretary Josh Earnest, is running to unseat Senate Minority Leader Mitch McConnell (R).
[Photo via DonnaBrazile.com/YouTube screen grab]
— —
Have a tip we should know? tips@mediaite.com