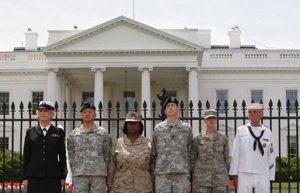 Despite the Lady GaGa's best efforts, an attempt to get "Don't Ask, Don't Tell" to a vote in the Senate has failed, with moderate Republican supporters of repeal joining with the rest of their party to continue a fillibuster on a defense funding bill.
The 56-43 vote to end debate means both the attempt to end the policy barring gay and lesbian servicemembers  and a larger defense funding bill may not receive a vote again until after the November elections.  Democrats opposing "cloture" that would have brought the bill to the floor included Sens. Blanche Lincoln and Mark Pryor of Arkansas.  Lincoln is considered a long-shot to keep her seat in the upcoming election.
"Today's Senate vote was a frustrating blow to repeal this horrible law.  We lost because of the political maneuvering dictated by the mid-term elections.  Let's be clear: Opponents to repealing 'Don't Ask, Don't Tell' did not have the votes to strike those provisions from the bill.  Instead, they had the votes for delay," said Aubrey Sarvis of the Servicemembers Legal Defense Network after the vote.
Democrats had hoped to persuade a group of moderate Republicans–led by Susan Collins of Maine–to join them in stopping the fillibuster of the bill which also includes a provision dealing with the children of undocumented immigrants.  In the end, however, none of the moderates could be persuaded to help stop debate.
The Family Research Council's Tony Perkins blamed Democrats for listening to Lady GaGa instead of members of the military, saying "[w]hile Democratic leadership took their cues from pop singer Lady Gaga, Republicans and a few Democratic colleagues instead considered the views of all four military service chiefs who have urged Congress to keep the current law."
Here's Rachel Maddow on the fillibuster
Have a tip we should know? tips@mediaite.com