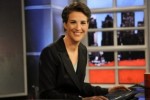 Rachel Maddow is a T.V. host and political commentator. She hosts 'The Rachel Maddow Show' on MSNBC. She is MSNBC's special event commentator with Brian Williams. She was born April 1, 1973, and attended Stanford University and the University of Oxford.
Rachel Maddow Q&A
Is Rachel Maddow married?
She has a long-time partner, Susan Mikula.
How much does Rachel Maddow make?
She is paid $7 million a year
Rachel Maddow Noteworthy Stories
March 7, 2019
Rachel Maddow gets amazing ratings, scores number one cable news show.
July 17, 2018
Rachel Maddow warns that worst case scenario post Trump-Putin presser. "There is no explicable scenario for any of those things, unless you are willing to believe the worst."
June 19, 2018
Rachel Maddow bursts into tears when reading the story that migrant babies were being detained.
Latest Rachel Maddow Stories