Dozens of Former Senior Diplomats Agree: Trump 'Entirely Unqualified' to Serve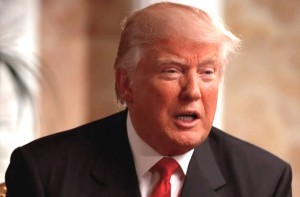 In an open letter released Thursday, 75 retired senior diplomats, whose tenures extend over the past four decades under both Republican and Democrat administrations, condemned Donald Trump as "entirely unqualified to serve as President and Commander-in-Chief."
"Because the stakes in this election are so high, this is the first time many of us have publicly endorsed a candidate for President," the letter says.
The letter says that by praising Vladimir Putin and encouraging Russia to perform espionage, while repeatedly disparaging members of the U.S. military, Trump has "comforted our enemies."
Trump is "ignorant of the complex nature of the challenges facing our country," he "has expressed no interest in being educated," and he has "recently demonstrated he entirely misunderstands and disrespects the role of the very officials who could educate him," they contend.
"By contrast," the letter's authors write, "Hillary Clinton's handling of foreign affairs has consistently sought to advance fundamental US interests with a deep grounding in the work of the many tens of thousands of career officers on whom our national security depends. Not every one of us has agreed with every decision she made (and the same would be true of every one of her predecessors), but we have profound respect for her skills, dedication, intelligence, and diplomacy."
The letter comes a little over a month after 50 Republican national security leaders released a similar letter saying that none of them would vote for Trump. "Mr. Trump lacks the character, values, and experience to be President," they wrote. "He weakens U.S. moral authority as the leader of the free world. He appears to lack basic knowledge about and belief in the U.S. Constitution, U.S. laws, and U.S. institutions, including religious tolerance, freedom of the press, and an independent judiciary."
Continue reading: The complete letter.
Have a tip we should know? tips@mediaite.com