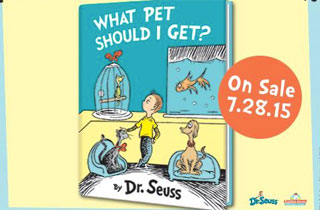 In the latest edition of "Let's Mine Classic Children's Books for Money," Random House announced today that they would release a new Dr. Seuss book, based on an unpublished manuscript found after his death.
The CBC reports that the book, entitled What Pet Should I Get?, will be available in bookstores on July 28th. It was "likely written between 1958 and 1962," and features the same bewildered children that appear in the classic book One Fish, Two Fish, Red Fish, Blue Fish.
One book is fine. But that is not all! Oh, no, that is not all:
The publisher plans at least two more books, based on materials found in 2013 in the author's home in La Jolla, California, by his widow and secretary.
One book, two books. Dead guy, new books? Call me old, but I just can't handle dead icons being shaken up for money.
Dr. Seuss is the latest in a long line of authors who suddenly had new books appear out of nowhere, despite obstacles like being dead or retired: the press-shy Harper Lee recently announced a sequel to her novel To Kill A Mockingbird, which was soon mired in controversy when it appeared that she may not have willingly authorized its publication. And Laura Ingalls Wilder, the (very dead) author of the Little House series, also has a book coming out based on a recently-discovered manuscript. (It's supposed to be a "rated R" version of the Little House books, which means: get ready for Samuel L. Jackson as Pa Ingalls.)
[CBC]
[Image via Random House]
—
>> Follow Tina Nguyen (@Tina_Nguyen) on Twitter
Have a tip we should know? tips@mediaite.com