The online storage service Dropbox has come under fire for appointing former Secretary of State Condoleezza Rice over her past defense of warrantless wiretapping under the George W. Bush administration. Dropbox made the announcement on Wednesday, welcoming Rice to its "leadership team."
When looking to grow our board, we sought out a leader who could help us expand our global footprint. Dr. Rice has had an illustrious career as Provost of Stanford University, board member of companies like Hewlett Packard and Charles Schwab, and former United States Secretary of State. We're honored to be adding someone as brilliant and accomplished as Dr. Rice to our team.
The backlash quickly began, with the site Drop Dropbox calling for a mass boycott of Dropbox unless they take back Rice's appointment. The site argues that Rice should not "hold power" at Dropbox because of her involvement in the Iraq War and her support of warrantless wiretapping, among other things.
Also, this image appears at the top of the site: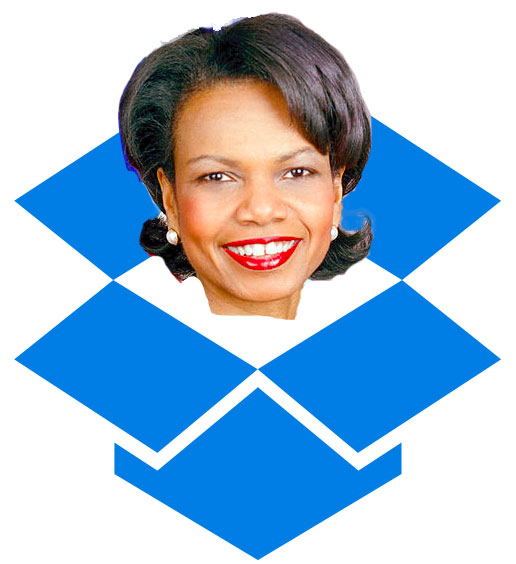 Dropbox CEO and co-founder Drew Houston took to the company blog to defend the appointment and assure people of their commitment to user privacy.
We should have been clearer that none of this is going to change with Dr. Rice's appointment to our Board. Our commitment to your rights and your privacy is at the heart of every decision we make, and this will continue.

We're honored to have Dr. Rice join our board — she brings an incredible amount of experience and insight into international markets and the dynamics that define them. As we continue to expand into new countries, we need that type of insight to help us reach new users and defend their rights. Dr. Rice understands our stance on these issues and fully supports our commitments to our users.

[h/t Business Insider]
— —
Follow Josh Feldman on Twitter: @feldmaniac
Have a tip we should know? tips@mediaite.com
Josh Feldman - Senior Editor