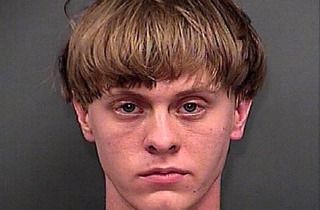 Dylann Roof, who was arrested last month for the murder of nine black churchgoers in Charleston, S.C., will face a grand jury indictment this afternoon to face his charges of hate crimes. Roof currently faces nine counts of murder in state court and could face the death penalty, but federal officials have said that the Charleston Shooting was so horrific that it must be addressed by the government.
U.S. Attorney General Loretta Lynch will hold a news conference at 3 p.m. ET, wherein she will give details about the Justice Department's proceedings. After the incident sparked discussions on race-relations across the country, an indictment could bring that aspect of the crime into the courtroom for the first time.
Ever since the news first broke that nine people, including Senator Clementa Pinkney, were murdered in a historically black church, federal investigators were determined to not only find Roof, but also the evidence necessary to fulfill the legal requirements to file hate crimes under a federal charge.
Initially, the effort was limited to the testimony given by the survivors who reported that Roof yelled "you are raping our women and taking over our country" during his rampage.
Officials are not authorized to speak publicly yet, but indications suggest that the revelation of Roof's manifesto, his desire for a race war and pictures with racist paraphernalia will be enough to suffice.
UPDATE – 3:40 P.M. EST Attorney General Lynch confirmed at the conference that Roof will face a 33 federal charges, including hate crime allegations, in tandem to his trial by South Carolina's state proceedings. Lynch said that indictment would mean that Roof would be certain to face life in prison or the death penalty, but it was not yet decided whether the Justice Department would pursue execution.
[h/t New York Times]
[image via screengrab]
Have a tip we should know? tips@mediaite.com