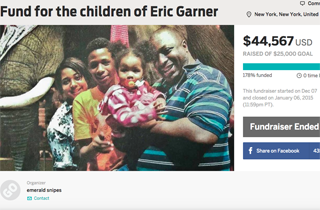 The family of Eric Garner, the man whose death at the hands of police sparked protests nationwide, is dealing with a new problem: The cottage industry of crowdfunding campaigns purportedly raising hundreds of thousands of dollars in the family's name.
DNAInfo discovered "at least 19" crowdfunding campaigns on Kickstarter, IndieGoGo, and GoFundMe that claimed that they were raising money to send to Garner's widow and children. Few were connected to the actual family itself, and the Garners say that they don't know where the rest of the money is going.
"I feel like people are trying to use my father's name for their own gain," his daughter Erica Garner told DNAInfo, adding that she was looking into legal action against the campaigns. "It's unfortunately a sad situation."
Some of the campaigns, like one started by the Charlotte Activist Collective, claim that they're in contact with the family, though members of the Garner family say they do not know the organizers. (They did not respond to attempts to contact them.) Another, which has raised $75,000, was started by a St. Louis book editor who says that the money will go to the family lawyer, Jonathan Moore, after he started getting "bombarded" by Garner relatives looking for the money. "It's made me very wary of who's calling me and sending me emails," Andrew Doty said. "I got these sort of mixed messages… I waited for that confirmation [from Jonathan Moore] and now we're in the process of getting that money to him." (Moore had no comment.)
It's not just a bunch of anonymous freeloaders attempting to cash in on Eric Garner's fame, however:
Both Carr and Erica Garner said that a previous IndieGoGo campaign campaign "to support the children of Eric Garner" by another of Garner's daughters raised more than $40,000, but she refused to share it with Erica Garner, she said.

"As soon as the money came in, she pulled back and nobody knows where that money went," Erica Garner said.

The daughter, whose name is being withheld because she has not been accused of any illegality, did not return several emails left over several days requesting comment.
The family is calling for the fundraisers to stop their activities, or at least donate it to causes such protesting against Garner's death. "My son had to die and you're reaping the benefits," his mother, Carr Garner, said. "You should put it towards a good cause, not just have money and do what you will with it."
UPDATE (February 20th, 2:00 p.m.): A spokeswoman for GoFundMe sent us the following update regarding one of the campaigns, verifying that one of the campaigns on their site purporting to send money to Eric's mother, Esaw Garner, was legitimate.
"I cannot speak to campaigns started on other crowdfunding sites," Kelsea Little, GoFundMe's Public Relations Manager, told us. "On GoFundMe however, we were careful to vet every single campaign related to Eric Garner and removed any that showed untrustworthy behavior."
[h/t ThinkProgress]
[Image via screenshot/IndieGoGo]
—
>> Follow Tina Nguyen (@Tina_Nguyen) on Twitter
Have a tip we should know? tips@mediaite.com