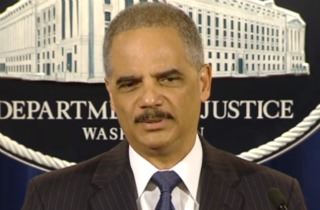 Secret emails aren't just a thing that Hillary Clinton uses: Attorney General Eric Holder has a few too, but according to the DOJ, they're mostly for filtering out spam.
The Huffington Post reports that Holder has gone through three email accounts during his tenure as Attorney General, often using aliases that do not sound anything like "Eric Holder." According to the Post, his discarded spam email addresses are Henry Yearwood (his mother's maiden name and a friend's name) and David Kendricks (a tribute to the Temptations that a spokesman called "soulful").
It's all good, though! A DOJ spokesman said that all the email addresses are known to people conducting congressional inquiries and officials handling FOIA requests. But thanks to a few unredacted emails, Holder's had to change his address to protect from spam, hackers, and spam hackers:
"The Attorney General uses a Justice Department email address to conduct official business. As with many Cabinet officials, he does not use his given name in the handle of his email address," Justice Department spokesman Brian Fallon said in a statement. "This practice is similar to using initials or numbers in an email address and helps guard against security risks and prevent his inbox from being needlessly inundated. It does not in any way impact compliance with FOIA requests. The Attorney General's email address is known to the individuals who process FOIA requests, and his emails are regularly produced, albeit with his exact address redacted."
Fallon also hinted that Holder's new email address was based on an athlete's name, so we're gonna sit here and spam [email protected] for a while.
[The Huffington Post]
[Image via screenshot/White House]
—
>> Follow Tina Nguyen (@Tina_Nguyen) on Twitter
Have a tip we should know? [email protected]