Erick Erickson Tweets Link To Coat Hanger Store In Wake Of Texas Abortion Bill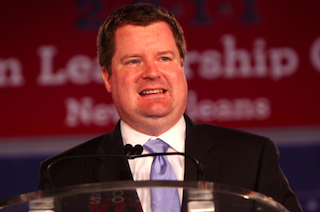 In a tweet that now appears to be deleted, right wing pundit And Fox News Contributor Erick Erickson tweeted a link to an online business selling coat hangers, a clear reference to one of the most awful methods of back alley abortions resorted to in the pre-Roe v. Wade era.
Erickson has since deleted the tweet, but Public Shaming grabbed a screenshot of the tweet: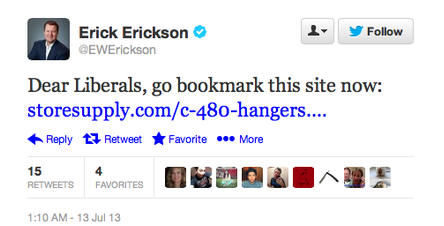 And here's a screenshot of the link: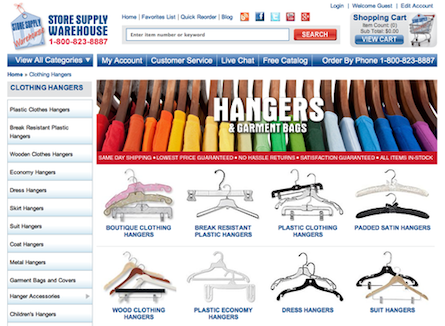 The tweet was clearly part of a motif Erickson was developing Friday night: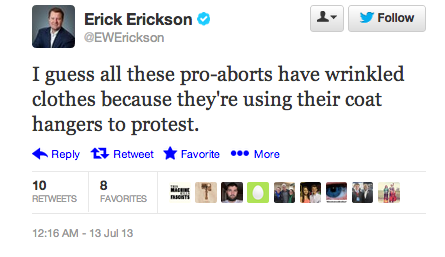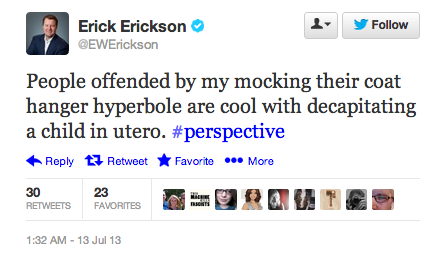 Erickson's apology today was…less than convincing:
I must offer up my sincerest apologies to the kid killing caucus that took it on the chin or other body parts in Texas last night.

After days on end of abortion supporters in Texas holding up coat hangers and then, yesterday, throwing feces, urine, and tampons in defense of killing kids, I tweeted out a link to a coat hanger wholesale store.

The kid killers were offended.

Now, I expected them to be offended because I was mocking their hyperbole. But they actually seem to think I was seriously suggesting some policy for the GOP.

I am so sorry. I forget that feminists and other pro-abortion activists really are as humorless as they are stereotyped to be.

In the future, I promise I'll remind myself constantly you people really believe throwing tampons and raising coat hangers can stop the will of the people who overwhelmingly support prohibiting late term abortions. And I will act accordingly.

In the meantime, again, you have my apologies for offending you for thinking I was being serious instead of accurately realizing I was mocking you and your outrageous hyperbole and lies.
The non-apology was matched by more tweets today: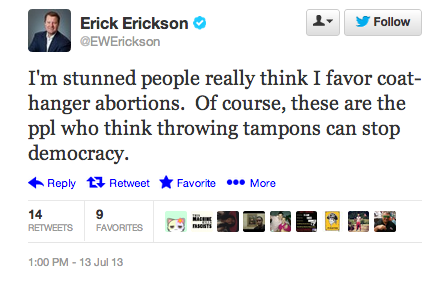 Erickson retweeted multiple criticisms, including some that felt he was hurting his own cause: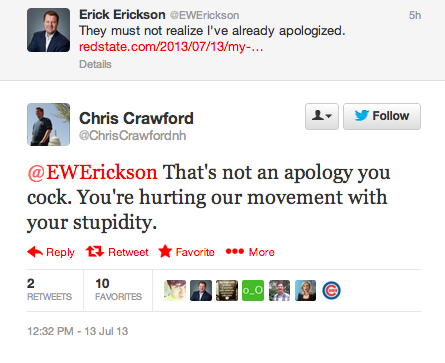 Erickson feed now appears to be protected. The two most recent tweets were Bible quotes.
—
>> Follow Evan McMurry (@evanmcmurry) on Twitter
Have a tip we should know? tips@mediaite.com