ESPN Cuts Off Arcade Fire Frontman the Second He Starts Talking About Politics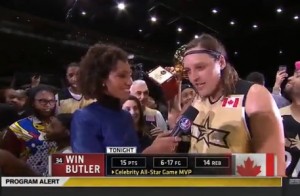 Last month, a leaked memo from ESPN indicated that the sports media giant was taking a hard line regarding any of its on-air talent discussing personal politics, policy, or the 2016 election. Citing what it called "a few adjustments to the coverage guidelines," ESPN notified employees that they should refrain from personal editorializing over politics or what it identifies as "drive by" comments about the election.
Assuredly, a network veteran like Sage Steele knows this rule well, and didn't hesitate to snap into action the moment that an interview was being democratically derailed. At the conclusion of the NBA All-Star Celebrity Game, Steele interviewed Win Butler, the frontman for Arcade Fire, who was given the MVP Award.
Butler used his moment of athletic glory to shift the focus from the hardcourt to the voting booth, citing Canadian politics as a model for how the United States should do things as well:
BUTLER: I just wanna say as an election year in the U.S., the U.S. has a lot they can learn from Canada: health care, taking care of people…

STEELE: We're talking about celebrity stuff, not politics! Congratulations on your MVP!
This raises a lot of questions, and I think the biggest ones relate to the sentence "Win Butler, the lead singer for Arcade Fire, won the MVP Award at the NBA Celebrity All-Star Game". There's a lot to unload there, but on the political points, credit to Steele for dancing her way through as gracefully as possible to adhere to ESPN's rules. Inches away (and several inches below), Kevin Hart looked as confused as ever at the exchange as telecast producers cut to a wide shot of the court.
Watch the above clip from ESPN.
[image via screengrab]
—
J.D. Durkin is the Senior Editor of Mediaite. You can follow him on Twitter @jiveDurkey.
Have a tip we should know? tips@mediaite.com