ESPN Pushes Back on Harassment Claim Against SportsCenter Anchor By Releasing Text Messages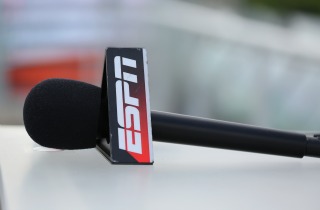 On Thursday, we posted about a Boston Globe report which detailed sexual harassment claims against two prominent ESPN personalities. Now, ESPN is pushing back strongly against one of the claims by publishing a series of text messages between the accuser and the accused, in an effort to establish that the two were engaged in a "consensual, personal friendship."
In the Globe story, former ESPN employee Adrienne Lawrence detailed her harassment complaint against SportsCenter anchor John Buccigross. From the report:
Lawrence accused John Buccigross, a longtime SportsCenter anchor whom she viewed as a mentor, of sending unsolicited shirtless photographs of himself and calling her "dollface," "#dreamgirl," and "#longlegs" in messages from 2016 reviewed by the Globe. Lawrence said she tried to remain cordial in the messages but at one point responded: "You need to wear clothes, sir."
ESPN released text messages between Lawrence and Buccigross spanning months. The messages, which were not complete (shirtless photos Buccigross sent Lawrence were omitted) show the two speaking casually about various subjects and arranging dinner meetings.
Lawrence, in the Globe story, claimed that ESPN reduced her on-air shifts and denied her a permanent job upon conclusion of her two-year fellowship as a result of her lodging an HR complaint against Buccigross. In a statement, ESPN spokesperson Katina Arnold dismissed Lawrence's claims.
"We conducted a thorough investigation and found these claims to be entirely without merit," Arnold said in the statement. "Lawrence was hired into a two-year talent development program and was told that her contract would not be renewed at the conclusion of the training program. At that same time, ESPN also told 100 other talent with substantially more experience, that their contracts would not be renewed. The company will vigorously defend its position and we are confident we will prevail in court."
After the publication of the texts, Lawrence posted a statement to Twitter in which she stood by her claims, saying that the network published "select, self-serving text messages."
Regarding the @BostonGlobe report: pic.twitter.com/cDcWcamcsY

— Adrienne Lawrence (@AdrienneLaw) December 15, 2017
ESPN's statement did not address claims in the Globe story against another prominent personality, fantasy football analyst Matthew Berry.
[image via Shutterstock.com]
——
Follow Joe DePaolo (@joe_depaolo) on Twitter
Have a tip we should know? tips@mediaite.com
Joe DePaolo - Senior Editor