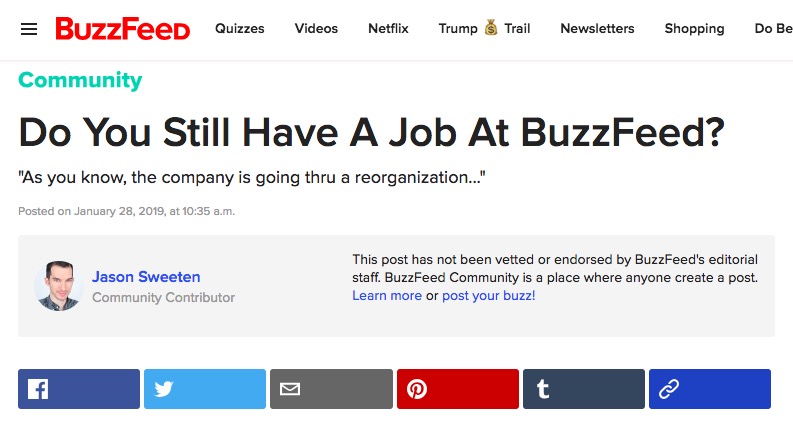 As BuzzFeed continues to face backlash for laying off roughly 200 employees, an ex-writer weaponized the company's famed quizzes against them and published a "Do You Still Have A Job At BuzzFeed?" questionnaire on the site today.
The quiz writer, Jason Sweeten, was laid off by BuzzFeed in the summer of last year and cited his negative experiences in a quiz he wrote for BuzzFeed Community — an unedited vertical for the site that allows anyone to create a post.
"What's your department?" Read one of the first questions, with answers that include "Editorial," "Business," "Technology," and "For the last two years I've done nothing but write personality quizzes. My boss assured me that I could try other things within the department, but she was just laid off."
Another early answer details the time Sweeten's boss "called me incompetent via Slack" after he missed a deadline due to coworkers attempting to pop a weather balloon next to him for a Buzzfeed video.
From there, the answers get continuously darker.
"Remember all that free Chiboni?" One question read, along with a response about the time Sweeten "sobbed in my HR representative's office."
"She hugged me and said everything would be okay," he continued. "We were going to work out a plan, but then she stopped responding to my emails."
Another question asks Buzzfeed staffers to bring "a dog to the office" amid the firings — an offer that the site's CEO Jonah Peretti actually made to staffers concerned about layoffs — but Sweeten's answer is just a demand for the company to "pay for my unused PTO." (Buzzfeed has withheld earned paid time off from many of their laid-off employees.)
In response to Buzzfeed withholding PTO, hundreds of current Buzzfeed staffers signed a letter demanding management honor the earned vacation days for laid-off employees. The firings were also controversially "staggered," meaning BuzzFeed started some of the cuts last week but will continue to make them in the next couple of days — leaving many in employment limbo.
The quiz's kicker, written in Buzzfeed's signature happy-go-lucky style, asks readers to "pick a color!" Sweeten's listed responses include "Red," "Blue," "Green," and "Unionize your media company."
The post quickly went viral on Twitter, as many laid-off Buzzfeed writers shared it and joked about its accuracy.
I just had to explain to a soon-to-be-former coworker that the fourth option ACTUALLY HAPPENED.

Anyway does anyone want my cat drawing? I will trade you for health insurance. pic.twitter.com/tm4lKOmtOC

— Louis Peitzman (@LouisPeitzman) January 28, 2019
Holy shit I am CRYINGGGGG at this "Do You Still Have A Job At BuzzFeed" quiz https://t.co/BSgNYkm7c6 pic.twitter.com/xvLbjHIGyT

— Arielle Calderon (@Arielle07) January 28, 2019
Morale? Low you say? pic.twitter.com/NK0C3wMNTU

— Luke Barnes (@LukeBarnes_92) January 28, 2019
Buzzfeed staffers outbuzzfeeding Buzzfeed management makes you love them all the more. ❤️ https://t.co/yZgrGJ67pe

— Daphnée Denis ?? (@daphneedenis) January 28, 2019
relatable buzzfeed content https://t.co/3mgjmB6P9P

— Andrzej Łukowski (@MrLukowski) January 28, 2019
[image via screengrab]
Have a tip we should know? tips@mediaite.com