Ex-Police Chief: North Las Vegas Mayor Sought Police Help in Deleting Child Porn from iPad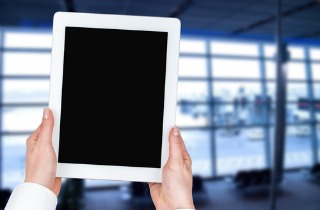 Joseph Chronister just retired as Police Chief of North Las Vegas, and now that he's no longer a city employee, boy does he have some stories to tell.
In a tell-all interview with the Las Vegas Review-Journal, Chronister — who left office on Thursday and had the interview published the next day — revealed that he'd been forced out the department by a mayor who once allegedly used the police to delete evidence of child pornography on his iPad.
As Chronister told it, Mayor John Lee simply wanted "bobbleheads" in the police department who would do anything he asked them to do. In one incident, Lee reportedly asked a police officer to help him deal with the child porn that kept popping up on his iPad, and days later, a detective specializing in these cases took Lee's iPad for investigation.
That investigation lasted one day:
In his report, the detective said he found no emails having to do with porno­graphy of any kind but did find links to three pornographic websites in the iPad's browser history. Two of the sites were not illegal, the detective determined, but the third showed pornography organized by the country where the images originated. He said the site looked illegal.

"I did locate several possible photos that could be considered child porno­graphy, but since they were in a different country, I could not verify the age of the people pictured," the detective wrote.

That sentence confused Joseph Dooley, a retired FBI agent who previously ran Connecticut's computer crimes task force. The Review-Journal contacted Dooley for his take as an expert in the field.

"If he thinks it's child porn, it's child porn. It doesn't matter what country it's in," Dooley said. "That sentence makes no sense to me."

He also questioned why the department waited so long to seize the iPad after the mayor told them it might have illegal content. It's not unusual to wait to investigate a device, but it's not proper to delay seizing it, he said.

"If you suspect you have child porn on the device, that's like having a kilo of cocaine sitting on your coffee table," he said.

Hoyt declined comment on the case, but in his report he said he plugged the iPad into an FBI-owned computer that downloads everything but could not find the email Lee described.
The detective then took the iPad to the Apple Store to wipe everything off it, and noted in his report that the Apple employee told him "a deleted email would no longer be on the device."
Chronister admitted that the police should have done a more thorough job in investigating Lee's iPad: "If there should have been a more thorough and in-depth investigation then I guess that's my fault, maybe, for not telling the detective to go on," he said. But there was a bunch of other weird behavior, like a voice mail he once received from the mayor, asking him for help "debugging a phone." ("That's Watergate crap," Chronister noted.)
"Maybe it's just me being a little hyper­sensitive, trying to put the two together and they truly don't go together," he said. "But both — relative close time frame, both of them were interesting requests of our department."
Lee said that he fully cooperated in the investigation. "As far as I know there were people who were doing evil to children," he said, just happy to have his iPad back. "I don't have anything to do with that sin."
[Image via Shutterstock]
—
>> Follow Tina Nguyen (@Tina_Nguyen) on Twitter
Have a tip we should know? tips@mediaite.com