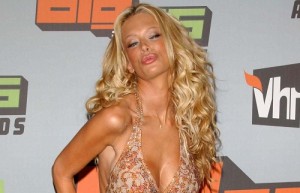 Technically, retired porn star Jenna Jameson just gave the popular game Minecraft her succulent seal of approval. That's because Republican presidential candidate Marco Rubio praised the game in September, and Jameson just endorsed Rubio's campaign for president on Twitter.
Per Addicting Info, the social media-based praise for the junior senator from Florida came on a rather busy Sunday for Jameson. First, she responded to a year-old tweet from New York real estate mogul Donald Trump about President Barack Obama, asking him to comment on the "US/Israel discrepancy."
@realDonaldTrump I'd be interested in a quote from you about the US/Israel discrepancy 🇮🇱

— Jenna Jameson (@jennajameson) October 18, 2015
Jameson, after all, is a recent convert to Judaism, so of course she'd be concerned about the matter. Hence why Rubio piqued her interest when he tweeted about the Obama administration's apparent "blaming" of the current Middle East conflict on Isreal. She subsequently retweeted Rubio's post.

Jameseon then let her feelings on the matter be known when she praised Rubio in a later tweet, calling him "the clear choice" for the White House.
@marcorubio is the clear choice!!!! https://t.co/AYgj4nZRXS — Jenna Jameson (@jennajameson) October 18, 2015
This isn't the first time the former porn star has publicly endorsed a presidential candidate, whether or not said candidate asked for it. During the 2012 election, Jameson famously cast her vote for Mitt Romney, saying: "When you're rich, you want a Republican in office."
[h/t Addicting Info]
[Image via Shutterstock.com]
— —
>> Follow Andrew Husband (@AndrewHusband) on Twitter
Have a tip we should know? tips@mediaite.com