Explosion at Beach Injures One, Bomb Squad Conducting Investigation (UPDATED)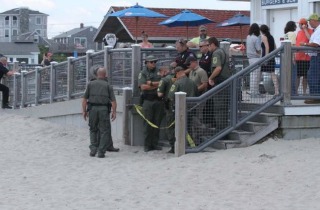 At approximately 11:15 A.M., Salty Brine Beach in Narragansett, Rhode Island was evacuated after a mysterious explosion injured a beach-goer. The state bomb squad and fire marshal were on the scene soon after to respond and discover what the cause of the explosion was.
The explosion reportedly came from underneath the sand, blasting a woman out of her beach chair and sending her flying onto nearby rocks. She was taken to South County Hospital, and her ongoing condition is currently unknown.
Officials have launched a manhunt for a suspect that they believe planted a device in the sand before running to a different beach nearby. Sgt. Thomas Silvia told the Providence Journal that this incident could have a connection to a series of "suspicious" fires that recently sank three fishing boats at a nearby pier.
UPDATE–– 3:00 P.M. EST: Authorities have not yet announced who the woman injured by the explosion was, but a tweet was released saying that she is still alive. The beach is still closed for the bomb squad's investigation.
Latest from DEM on beach explosion: The 1 victim who they are declining to identify was alert &conscious at the scene & at the hospital.

— katherine gregg (@kathyprojo) July 11, 2015
LATEST: #SaltyBrine still closed. Bomb squad investigating https://t.co/uDySwYr7Ma pic.twitter.com/23k31mY08n

— Providence Journal (@projo) July 11, 2015
UPDATE–– 4:45 P.M. EST: Reports indicate that the State Department of Environmental Management Police said that they have not yet determined if the action that sent the woman flying was an explosion, despite the descriptions of witnesses. The Providence Journal has provided updates to their initial story in a series of tweets. Most notably, the DEM says that they are not pursuing any suspects at this time, saying that they checked a report and determined the initial suspect was dumping a bag of sea shells.
DEM: People on beach reported smelling some sort of chemical. Samples taken but no explanation yet. http://t.co/r4k4op4KGI #SaltyBrine

— Providence Journal (@projo) July 11, 2015
NEW: DEM official – 'Something happened,' but no evidence of device after 'ground disturbance' at #SaltyBrine https://t.co/nGWB1hG42o

— Providence Journal (@projo) July 11, 2015
DEM official says they're not seeking suspect, checked report of fleeing person, determined it was seashells dumped from a bag #SaltyBrine

— Providence Journal (@projo) July 11, 2015
[h/t Buzzfeed]
[Image via Twitter / Providence Journal]
— —
>> Follow Ken Meyer (@KenMeyer91) on Twitter
Have a tip we should know? tips@mediaite.com