NFL Player Pays $3,900 Auto Repair Bill in Change After Dispute With Mechanic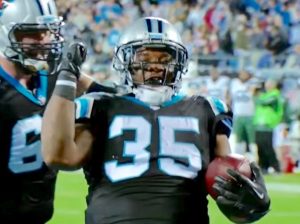 After a lengthy dispute, Carolina Panthers running back Mike Tolbert was told by a representative of Motion Lab Tuning — an auto repair shop in Charlotte — that he would not be allowed to pay his $3,900 bill by personal check.
"What kind of respectable establishment won't take a check?" Tolbert said, according to ESPN. "They said they won't take my check, it wasn't going to clear the bank. I was like, 'Whew! You're throwing shots. So I've got one for you.'"
Oh, he had more than just one. He had a truckload.
A truckload of coins, that is.
Tolbert went to his bank and got $3,900 worth of coins, went to Motion Lab Tuning, and settled his bill
"It was pennies, nickels, dimes, quarters … everything," Tolbert said. "I didn't care one bit."
Tolbert wrote on Instagram that Motion Lab Tuning did not finish work on Tolbert's vehicle two and a half months after they started the job. Tolbert said the company estimated the work would take 10 days. He also accused the owner of charging him more, "because I'm a millionaire."
According to Jalopnik, which first reported the story, Motion Lab Tuning posted a heated statement of its own on Facebook, which has since been deleted:
Today was a huge waste of time and a major disappointment. Many of you may know who Mike Tolbert is. He plays for the Carolina Panthers. He had an old car at the shop for a motor swap. You might think because he is a professional athlete he would be a fair and ethical person.

From the beginning, he attempted to get us to do work for free because he is 'Mike Tolbert'. So today, I am disappointed that it came to this, I had to call the police on Mike Tolbert. He and his buddy threatened me. CMPD actually banned him from the property today. They forced him to pay his bill before leaving though. In a passive aggressive manner, he thought he would get the last laugh by paying in coins. Pretty dumb really. All $3,900 in coins were easily identifiable as they came from a bank in boxes and perfectly counted out. I will say this, those coins will be taken in the boxes they came in and will be taken to a teller at BOA for deposit.

Now he is slandering me, saying things that weren't true. Name calling, etc. Jesus man just pay your bills and be a good person. I also have to break it to my son who is a fan of Mike Tolbert that he is a real scumbag that doesn't want to pay his bills.

There's a special place for guys like Mike Tolbert. People like him that try to cheat a small business. Shame on him for this type of behavior.
Motion Lab Tuning later posted a much more toned down statement, in which it chalked up the matter to a miscommunication between the company, Tolbert, and a third-party vendor which served as a go-between.
"We relied on that third-party vendor to communicate with Mike on our behalf," the company said. "In hindsight, that was a mistake."
[image via screengrab]
–
Follow Joe DePaolo (@joe_depaolo) on Twitter
Have a tip we should know? tips@mediaite.com
Joe DePaolo - Senior Editor