Alicia Machado Responds to Trump Publicly Musing About Her Sex Tape in Spanish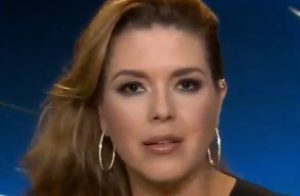 This morning, GOP presidential candidate Donald Trump tweeted about Alicia Machado to his nearly 12 million followers. He told them to check out a sex tape there is no proof of the existence of (unless he was referring to a brief but risqué moment on reality TV) and continued disparaging her. This has not gone over well with analysts and commentators.
It also hasn't gone over well with Machado.
Like her preferred candidate Hillary Clinton, Machado used social media to respond, posting this photo of herself wrapped in the American flag:
Here is what the caption says in English:
"The Republican candidate and his campaign team are again generating attacks, insults and trying to revive slanders and false accusations about my life. All this in order to intimidate, humiliate me and throw me off balance again. The attacks that have emerged are slander and lies cheap generated with bad intentions, which have no foundation that have been spread by sensationalist media. This, of course, is not the first time that I faced such a situation. Through their hate campaign, the Republican candidate insists discredit and demoralize a woman, which is definitely one of the most terrifying features. With this, they are seeking to distract attention from their real problems and [Trump's] inability to pretend to be the leader of this great country. When I was a young girl, the now candidate humiliated, insulted me, disrespected me publicly, as he usually did privately in the cruelest way. As this happened to me, it is clear over the years that their actions and behavior have been repeated with other women for decades. Therefore, I will keep standing, sharing my story. I absolutely support Mrs. Clinton on behalf of women, my sisters, aunts, grandmothers, cousins, friends and female community. My Latin and in general, I want to thank all the support, love and respect, my career, my person as a human being and my family. I became a citizen of this great country because my daughter was born here and because I wanted to exercise my rights, including voting. I will continue standing firm in my lived experience as Miss Universe and you with me supporting me. I've been so pleased with many kind words, for so much love. I'm focusing on my busy career, in my work as mother and I will continue taking positive steps for the Latino community, I will continue as activist for women's rights and respect we deserve. I appreciate all your love and all your support again, thanks. "Thousands of blessings.
Now it's Trump's turn to respond again.
[image via screengrab]
Have a tip we should know? tips@mediaite.com