Footballer Defends Teammate Who Grabbed Opponent's Genitals: 'Something We've Done All Year'
On Monday, we posted about Clemson player Christian Wilkins — who grabbed for an Ohio State player's genitals during Saturday's Fiesta Bowl.
Wilkins apologized for the act after the game. But now, one of his teammates has come forward saying "it's not really that big of a deal."
Ben Boulware, a linebacker for the Tigers, spoke to the media in advance of Monday night's National Championship game in which Clemson will square off against Alabama. In remarks posted to YouTube by The State, Boulware defended his teammate, and wrote off the action as commonplace for his squad.
"That's something we've done all year to mess with players," Boulware said. "No one's probably done it as aggressive as Christian did. We try to be a little more discreet about it and just poke somebody, but he definitely grabbed a handful. I did it against USC. The dude tweeted it. I just poked him in the butt. Like, it's just something we do to mess with players, break up the seriousness of the game."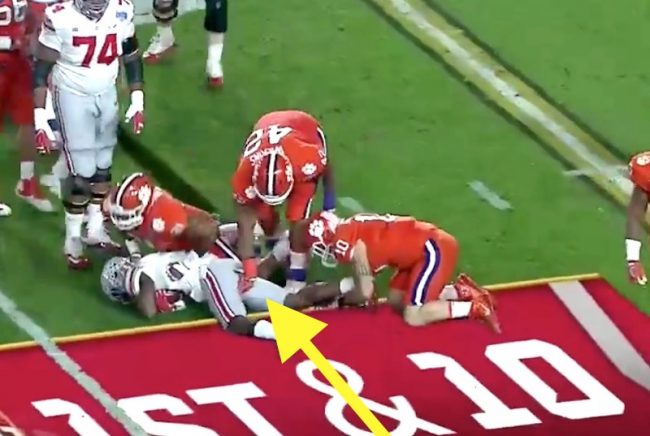 Boulware wrote off the criticism of Wilkins, saying that it came predominantly from those who never played football before.
"Yes, Christian went — he went about four fingers deep. He went a little too far," Boulware said. "But when I'm just messing with somebody, poking them in the belly button or grabbing someone's butt, it's just to break up the seriousness of the game. The people who are freaking out about that have never played the game, or were just losers who didn't have any friends when they played the game. It's annoying."
Watch above, via The State
[image via screengrab]
–
Follow Joe DePaolo (@joe_depaolo) on Twitter
Have a tip we should know? tips@mediaite.com
Joe DePaolo - Senior Editor