For His 'Righteous Judgments,' Justice Scalia Earned the Respect of Westboro Baptist Church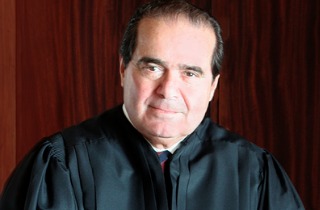 As the nation paid respect Saturday to the late Supreme Court Justice Antonin Scalia, a small contingent of three uninvited mourners from the Westboro Baptist Church stood outside the Basilica of the National Shrine of the Immaculate Conception in Washington D.C., telling one reporter that Scalia's "righteous judgments" on the nation's highest court would be missed.
The Westboro Baptist Church has gained notoriety and near-universal contempt for its members' practice of picketing funerals of U.S. soldiers and others, brandishing incendiary signs and singing songs preaching their gospel that "God hates fags."
The New York Times reported:
[WBC's] Mr. Phelps-Roper conceded that Justice Scalia had been a better standard-bearer for such conservative social values than many. "The fact of the matter is practically he's about as good as this nation's had in a long while as far as righteous judgments," he said.
The three WBCers "held signs, sang and called out to mourners," the Times wrote, because Scalia had some blame to bear for even sitting on the same court that had seen rulings in favor of legalizing abortion and same-sex marriage. Although it's not clear what more the church members would have wished for the conservative Justice to do in these specific cases: Scalia dissented in Planned Parenthood v. Casey, which upheld Roe v. Wade; dissented in Lawrence v. Texas, which struck down anti-sodomy laws; and of course dissented in United States v. Windsor and Oberegefell v. Hodges, the two landmark cases for marriage equality.
Scalia also joined the majority 8-1 opinion that ruled in favor of the WBC in Snyder v. Phelps, a decision which held that signs proclaiming, "Fag troops"  and "Thank God for dead soldiers," were protected speech under the First Amendment. (Only Justice Samuel Alito dissented.)
[h/t NYT]
Have a tip we should know? tips@mediaite.com