Former CIA Director Under George W. Bush Labels Hannity 'True Propagandist'
'Truth Is What Serves the Party'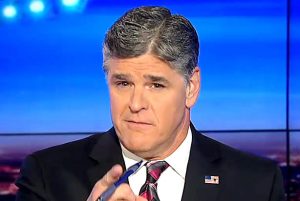 Michael Hayden, the former director of the NSA and the CIA, said in a statement Sunday that Fox's Sean Hannity, one of Trump's most ardent and vocal media supporters, behaved like a "true propagandist."
In a statement to Brookings Institute senior fellow Benjamin Wittes, Hayden, a retired Air Force general, wrote that "Hannity has entered the pantheon of a true propagandist." He added that the Fox host's "behavior reminds me of a conversation I had with a political office in the mid-1980s when I was the air attaché to Bulgaria. I asked this officer what truth was to him. He responded without hesitation, 'Truth is what serves the party.'"
Former CIA and NSA Director Mike Hayden responds to @seanhannity's endorsement of foreign espionage against the US. pic.twitter.com/HwbNJjKmDB

— Benjamin Wittes (@benjaminwittes) October 23, 2016
Hayden's remarks were in direct response to Hannity's praising WikiLeaks founder Julian Assange. It was a drastic shift for the Fox host, who was hostile to Assange and WikiLeaks for years. His sudden about-face comes after the organization began making disclosures intended to damage Clinton's campaign, specifically steadily releasing emails stolen from the private email account of Clinton's campaign chair John Podesta.
Hayden noted that, save for a few personalities — such as Chris Wallace, who moderated the final debate, Bret Baier, and Megyn Kelly — "FOXNews has almost completely jumped the shark."
"They have given up any semblance of conservatism and focused on an almost visceral hatred of all things Clinton and Obama."
Hayden served as director of the NSA from 1999 to 2005 and director of the CIA from 2006 to 2009. He was one of 50 top Republican national security officials to sign an open letter in August denouncing Trump.
—
Sam Reisman (@thericeman) is a staff editor at Mediaite.
Have a tip we should know? tips@mediaite.com