Former Teen Beauty Queens Claim Trump Walked in On Them While They Were Naked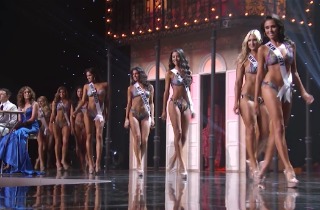 As Donald Trump faces the aftermath of his obscene comments about women, several Miss Teen USA competitors are saying that he once casually walked in on them while they weren't wearing any clothes.
Four 1997 contestants told Buzzfeed that they found it "shocking" and "creepy" to find that Trump walked into their changing room at the time when some of the contestants were only 15 years old. Mariah Billado, who represented Vermont, recalled how there was a rush to cover-up when her competitors realized there was a man in the room.
"Don't worry, ladies, I've seen it all before," Trump reportedly said.
Three other women offered similar accounts, though they requested anonymity. Eleven of the contestants that year said they do not remember seeing Trump inside the room with them.
Trump has been accused of similar incidents that go beyond 1997. Former Miss New Hampshire Bridget Sullivan offered a similar story about Trump months ago, when she alleged that Trump would walk through her dressing room back in 2000. Tasha Dixon, who was Miss Arizona in 2001, told CBS Los Angeles that Trump once came "waltzing in" on her as well as her group was nude or in the middle of changing into bikinis.
The timing of alleged walk-throughs match up with an interview Trump gave to Howard Stern in 2005, where he admitted that he had a habit of going through the beauty pageant locker rooms.
"I'll go backstage and everyone's getting dressed, and everything else, and you know, no men are anywhere, and I'm allowed to go in because I'm the owner of the pageant and therefore I'm inspecting it. You know, I'm inspecting because I want to make sure that everything is good. And you see these incredible looking women, and so, I sort of get away with things like that."
[Image via screengrab]
— —
>> Follow Ken Meyer (@KenMeyer91) on Twitter
Have a tip we should know? tips@mediaite.com