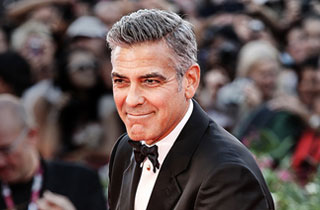 A lot of people are to blame for the death of The Interview, but George Clooney told Deadline that he blames Hollywood most, for not standing by Sony during a clear act of terrorism.
As proof, Clooney produced a petition that he'd wanted the heads of every Hollywood studio to sign, stating that they stood by Sony and would not bow to the hackers' demands to pull The Interview, despite their threats of terrorism. According to him, no one signed.
"How can you not sign this?" Clooney asked. "Nobody stood up. Nobody took that stand." And thus, Sony was forced to capitulate.
Blaming the media for continuing to portray the hacking as a story about embarrassing leaked emails, Clooney grimly acknowledged that the hackers, which he argued were definitely North Korean, had a "brilliant" plan:
You embarrass them first, so that no one gets on your side. After the Obama joke, no one was going to get on the side of Amy [Pascal, Sony Pictures head], and so suddenly, everyone ran for the hills. Look, I can't make an excuse for that joke, it is what it is, a terrible mistake. Having said that, it was used as a weapon of fear, not only for everyone to disassociate themselves from Amy but also to feel the fear themselves. They know what they themselves have written in their emails, and they're afraid…

This is just where we are right now, how scared this industry has been made. Quite honestly, this would happen in any industry. I don't know what the answer is, but what happened here is part of a much larger deal. A huge deal. And people are still talking about dumb emails. Understand what is going on right now, because the world just changed on your watch, and you weren't even paying attention.
Though he was sympathetic to Sony — "Sony didn't pull the movie because they were scared; they pulled the movie because all the theaters said they were not going to run it," he explained — he added that despite the threats from terrorists, he and Pascal wanted to put The Interview out, in some way.
"Stick it online. Do whatever you can to get this movie out. Not because everybody has to see the movie, but because I'm not going to be told we can't see the movie. That's the most important part. We cannot be told we can't see something by Kim Jong-un, of all f*cking people."
[Deadline]
[Image via taniavolobueva / Shutterstock.com]
— —
>> Follow Tina Nguyen (@Tina_Nguyen) on Twitter
Have a tip we should know? tips@mediaite.com