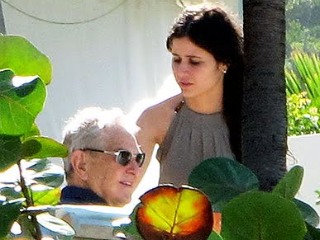 Liberal businessman and financier George Soros is facing legal trouble over a promise he allegedly broke to his ex-girlfriend, a Brazilian soap opera star named Adriana Ferreyr (You can check out her IMDB page here.) Ferreyr, shown here on a trip with Soros last December, has filed a $50 million lawsuit against her ex, alleging that he slapped and choked her while the two argued about an apartment he'd promised her on Manhattan's Upper East Side.
According to the suit, Sorors dumped Ferreryr after five years of dating. The two then reconciled briefly, at which point Soros leaned over to Ferreyr while in bed and whispered that he'd given the apartment he'd promised her on 30 E. 85th St. to another woman. And that's when, the actress alleges, the proverbial dookie hit the proverbial fan. She says Soros proceeded to slap her and choke her. Then, he allegedly tried to hit her with a glass lamp, which ended up breaking on the floor and cutting her foot, resulting in three stitches.
Police were called, but no charges were filed. Soros' lawyer tells the New York Post that police "investigated the… incident referred to and concluded that no assault occurred… George Soros did not slap, choke or throw a lamp at her."
Later, Soros allegedly apologized and offered to buy Ferreyr another multi-million apartment… only to break his promise once again.
Ferreyr is currently studying economics and philosophy at Columbia University. Her IMDB bio also lists her as an "entrepreneur, real estate developer and philanthropist."
h/t FoxNews.com
Have a tip we should know? tips@mediaite.com