Right Wing Darling James O'Keefe: The Man Who Exposed ACORN and Lucky Charms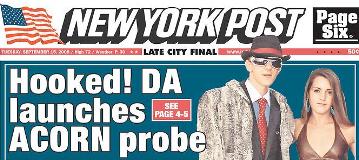 James O'Keefe seems to be everywhere these days – or at least everywhere a right-winger would be paying attention to. He's on Fox News all the time (sometimes even in a pimp costume), on Drudge Report, and today, on the cover of the New York Post.
Where did this 25-year-old intrepid conservative undercover reporter come from? We have the inside scoop – and it's pretty spectacular.
Before we get into what we've found, it's important to note just how much O'Keefe has accomplished in the last week. Since his undercover videos exposing ACORN were posted on BigGovernment.com, he got the U.S. Census to stop working with ACORN, and last night he got the Senate to cut ACORN's federal funding. These are real, impressive results.
We talked to several of O'Keefe's former classmates. Let's get to know the GOP's new young hero:
• He started an alternative, conservative magazine while a student at Rutgers University, called The Centurion. The most recent issue available is from March 2009, and features a cover story: "Paul Robeson: New Jersey's Favorite Stalinist." Here's a bit of their mission statement:
We believe in fiscal and moral responsibility, a strong national defense, free-market economics, American exceptionalism, and God. We stand unyielding in defense of our motto, "Veritas vos liberabit," or "The truth shall set you free."
• He waged a campaign against dining halls serving Lucky Charms. You see, besides being magically delicious, O'Keefe thought the cereal was offensive to Irish Americans.
• He ran an affirmative action bake sale. Let's repeat – an affirmative action bake sale, where they sold baked goods for different prices based on your race. This was all to prove a point, of course, that affirmative action is bad.
• He was in the Glee Club. That's about it.
The best part about this – just like his hidden camera investigations of ACORN, O'Keefe documented these on YouTube as well. Find some of the videos below.
His Facebook profile is also popping with interesting info. Here are his favorite books:
Rules for Radicals, Dedication and Leadership, The Global Activist's Handbook, The True Believer, Witness: Letter to my Children, Courage: The Joy of Living Dangerously, The Dream of the Ridiculous Man, Eclipse of the Sun, The Sea Within: Waves and the Meaning of All Things, Airborne: A sentimental Journey, The War Against Boys, The Death of the West, The Black Book of Communism, The Unaborted Socrates, The ISI Student Guide to Liberal Learning, The Closing of the American Mind, Anything by C.S. Lewis, Orthodoxy, Comedia Divina,
Also – there are some great pictures. We made a Flickr slideshow because they're worth it – check it out.
He's got some very detailed essays on his Facebook page as well – like this one extolling the virtues of living on a boat.
We've reached out to this up-and-coming O'Reilly ambusher-like 20-something. James – we'd love to talk to you, by phone, email or undercover video.
Here's O'Keefe exposing the injustice that is Lucky Charms:


Here's that Affirmative Action Bake Sale:


—–
» Follow Steve Krakauer on Twitter
Have a tip we should know? tips@mediaite.com