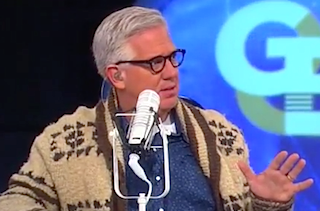 On his radio show Wednesday, Glenn Beck let it be known that he does not approve of a new PSA from the group FCKH8.com that features young girls repeatedly dropping the f-bomb in the name of feminism. "It's despicable," Beck said of the ad that has successfully drummed up controversy since it was posted online this week.
"No parent says to a six year-old girl, 'Hey, hey, hey, you can say this,'" Beck said. "Go ahead. It's cool. Use the F-word. Drop the F-bomb a few times. Nobody says that. Nobody! Nobody who is a decent parent ever would say that."
"It's despicable," he continued. "This is going to scar them. This is setting their feet on a path. They have shaped these girls and taught these girls something that you will never be able to unteach them." He predicted that if he spoke to the girls in the video 25 years from now, he would be able to see the damage done.
Beck is not the only commentator to share his outrage over the video, which has drawn ire from all sides of the political spectrum.
Fox News contributor Kirsten Powers equated the video to "child abuse":
This borders on child abuse—> Little Girls Unleash a Torrent of Profanity in 'F-Bombs for Feminism' http://t.co/5RxD0u27nN via @mediaite

— Kirsten Powers (@KirstenPowers) October 22, 2014
Author Brad Thor questioned several sites for posting it, while praising the conservative Hot Air for its treatment of the issue:
@eonline + @Mediaite both link to repulsive feminist vid exploiting little girls by having them drop F-bomb. Comments sections not liking it

— Brad Thor (@BradThor) October 22, 2014
@hotairblog did a MUCH better job of covering & condemning disgusting child f-bomb vid than @eonline & @Mediaite http://t.co/YapG1TQ6FG

— Brad Thor (@BradThor) October 22, 2014
And the National Review's Jonah Goldberg condemned the video under the headline "Feminism Sinks To A New Low." He wrote, "I could rant for a while about the rich cocktail of stupidity and creepiness of all this, but it really speaks for itself. And, besides, that's what they're going for. I will say that the parents of these little girls should be ashamed of themselves."
What Goldberg semi-acknowledges — and few others do — is that the piece was clearly intended to offend. "What is more offensive: a little girl saying fuck or the fucking unequal sexist way society treats girls and women?" the girls ask in the video, making the point that actions speak louder than words.
In other words, the video asks: What is more likely to harm these girls in the long run, the institutional sexism the campaign is railing against or a few minutes on camera saying a four-letter word?
Watch Beck's remarks below, via TheBlaze:
The original video was removed from FCKH8's Vimeo page, but a new, identical version went up Wednesday afternoon:
Potty-Mouthed Princesses Drop F-Bombs for Feminism by FCKH8.com from FCKH8.com on Vimeo.
UPDATE — 4:35 p.m. ET: Mediaite reached out to FCKH8.com to ask why the video was removed and re-uploaded to Vimeo. Here is the statement we received from a spokesperson:
It seems like this censorship with both Vimeo and Youtube pulling the video is because of user complaints about kids saying fuck. The video does not violate any user guidelines and with all the sexist content on both sites that is allowed to stay up, as well as content that uses this simple four-letter word, we are surprised that they chose to censor it. This censorship gets to the exact point that the girls in the video are making… that society finds it more offensive for a girl to say fuck than they do the fact that 1 out 5 women are sexually assaulted and raped and that women get paid 23% less than men for the exact same work. We will be reuploading and have contacted both Youtube and Vimeo about this. Is YouTube really in the business of censoring their users? Is Vimeo now the politeness police?
[h/t RWW]
[Photo via screengrab]
— —
>> Follow Matt Wilstein (@TheMattWilstein) on Twitter
Have a tip we should know? tips@mediaite.com